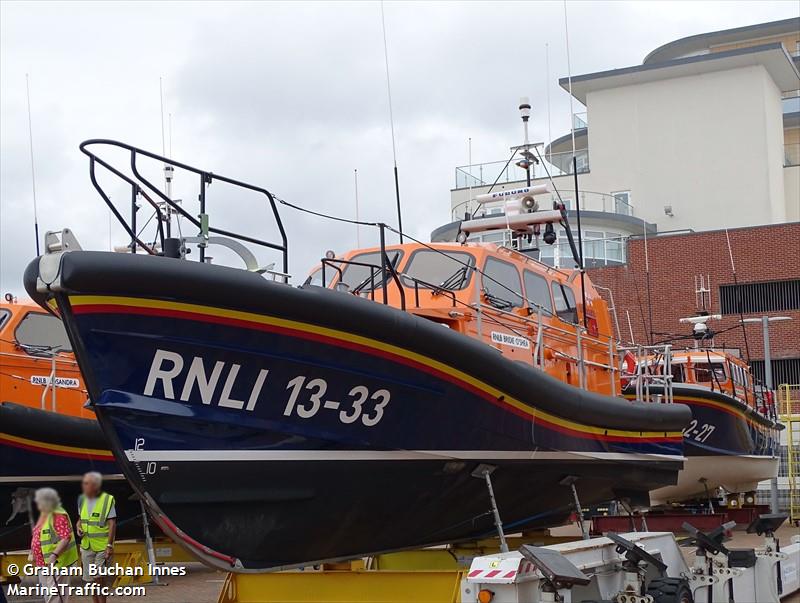 Exmouth RNLI All Weather Lifeboat launched to assist fishing trawler  
At 05:24hrs today Saturday 14 December 2019 Exmouth's RNLI All Weather Lifeboat, 13-33 Bridie O'Shea was alerted by HM Coastguard to go to the assistance of a fishing vessel reporting smoke in the engine room.
The lifeboat, standing in for Exmouth's 13-03 R & J Welburn that is currently undergoing repairs, launched shortly afterwards and rapidly made its way to the scene where the crew, led by Coxswain Roger Jackson, were able to establish that the smoke was coming from an electrical generator. The volunteer lifeboat crew assisted the vessel to Exmouth Marina where they were met by a fire crew from Devon and Somerset Fire & Rescue Service.
Volunteer Lifeboat crew involved in the emergency were :
Head Launcher : Toby Lagus
Shorecrew :  Steve Hockings-Thompson, Harry Griffin, Rory Carrig and Neil Cannon
Tractor Driver : Henry Mock
Lifeboat Crew :  Coxswain – Roger Jackson, Mechanic – Paul Balbi, Navigator – Roy Stott, Crew Personel – Mark Sansom, Steve Satchell and James Edge.
It was James Edge's first experience on the all weather lifeboat as a crew member.
Exmouth RNLI Lifeboat Coxswain Roger Jackson said, "The crew of the fishing vessel realised they had a potentially serious problem and did the right thing by calling for help at the earliest opportunity. We were pleased to go to their aid and escort them quickly to safety. This was a good example of excellent co-ordination with our HM Coastguard and Fire Service partners that meant this situation was dealt with rapidly and safely."
The lifeboat completed the assignment and was back on station at 07:30hrs today.