A Devon artist, Brendan Rawlings, of Zen Wood Design, Topsham has created a life-sized angel using bits of driftwood from all over Devon and Cornwall will be exhibiting it by the Exmouth RNLI Lifeboat Station in Queens drive from 09:00 – 16:00hrs on Saturday 29 February 2020, subject to weather conditions.
Brendan hopes to raise significant funds for the local charity that saves lives at sea and there will be a bucket collection at the display for that purpose.
The impressive statuette of a crouching male winged angel stands over 6 feet tall and took Brendan just one week to complete and the popular artwork, entitled 'Your Guardian Angel', was created after Brendan was asked to replicate a wall piece angel into a 3D life-sized sculpture for an exhibition.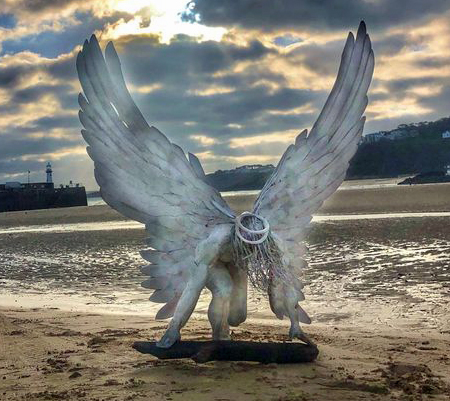 Brendan said, "I am going to put it by the RNLI lifeboat station so that people can donate to them if they wish to.
I made it literally last week after someone from Torbay Guild of Artists saw an angel wall piece I had made. He asked to have that one for an exhibition but as it was not a full-sized sculpture he asked if I could make one. I worked hell for leather days and nights last week to make it in time.
The wall piece is much smaller and is not 3D. The newest one has hair made of seagrass I found in Budleigh. I added hair to give him a windswept/ just landed in the sea look. The hair was made by sticking individual blades of grass on."
After this event, Brendan plans to exhibit the work at a number of other lifeboat stations around the coastline.