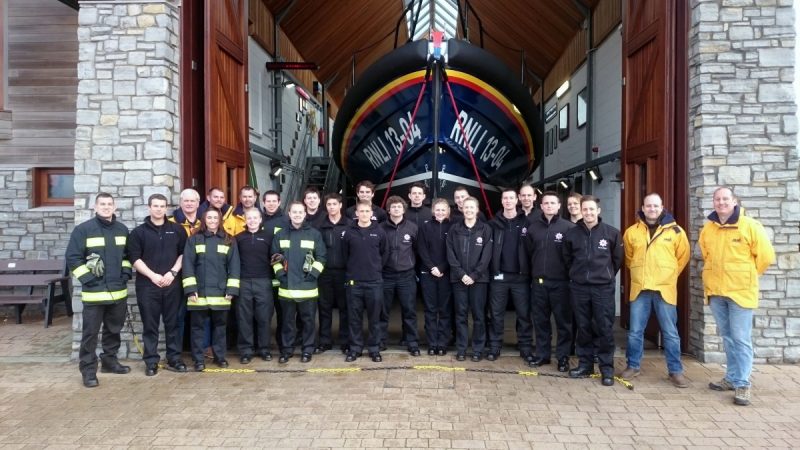 Devon and Somerset Fire Service new recruits visit Exmouth lifeboat station
On 23 January, the newest Wholetime Duty System firefighters from Devon and Somerset Fire Service visited Exmouth lifeboat station to learn about the roles of the volunteers and their lifesaving equipment.
Full-time Mechanic, Andy Stott; Crew volunteers, Chris Sims; Roger Moore; Guy Munnings and Shore Crew volunteer, Neil Cannon gave informative talks on both the Shannon class lifeboat and its launching system and the D class inshore lifeboat, George Bearman II. Currently, the Exmouth all-weather lifeboat on station is relief Shannon class lifeboat Storm Rider as R and J Welburn is at the All-weather Lifeboat Centre for modifications and updates.
Devon and Somerset Fire Service Community Safety Education Officer, Dan Searle commented on the visit:
'The highlight was the very impressive all-weather lifeboat and we appreciated the time Exmouth RNLI volunteers gave up to talk to us about various aspects of their lifesaving kit, the importance of teamwork, technical competence as well as search and rescue.
'In the afternoon, our team received input from our Community Safety (CS) team about the Virtual Reality goggles used at events to highlight the dangers from factors causing road traffic collisions and cold water shock. The latter included collaborative work with many partner agencies including the RNLI.
'It's important for our firefighters to understand the skills, training and equipment of other emergency services so we can all work together to prevent loss of lives in our area. By the end of the visit, we had all gained valuable insight about saving lives at sea.'