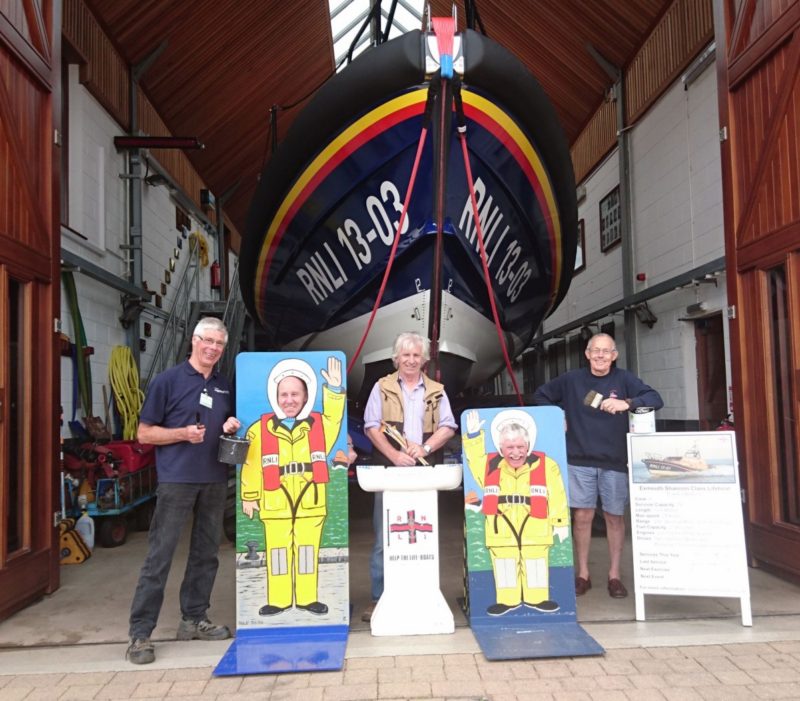 Men's Shed volunteers answer Exmouth lifeboat station's call for help
This month, Exmouth lifeboat station has been given two new attractions to add to the visitor experience and fundraising events.
Local charity, Men's Shed have designed and painted 'cut-outs' to help spread awareness of the charity that saves lives at sea. Named Tidal Tim and Stormy Steve in an aim to attract visitors and raise donations, they will be on display both at the station and at outside events.
Men's Shed Exmouth is an Open Door project, a charity based at Clayton House in Littleham, Exmouth. It is a space for men to socialise over a game of pool or darts, and learn and share skills such as carpentry, metalwork, cooking and anything else that might be of interest.
Men's Shed is a community project, keen to pursue any opportunities to help and support the community.
Exmouth RNLI Lifeboat Operations Manager, Kevin Riley called on the volunteers' help to brighten up an old cut-out and create a new, larger one. Kevin said:
'This is a good example of two local charities supporting each other. Men's Shed are helping us with our fundraising and spreading awareness of our life-saving work.'
Men's Shed volunteers who worked on this project were: Mick Cox, Project Leader; Mike Legault, Artist; Bill Lodge, Painter and Chris Broom, Undercoat Painter.
For more details about Men's Shed Exmouth, please see: www.opendoorexmouth.org.uk/mensshed