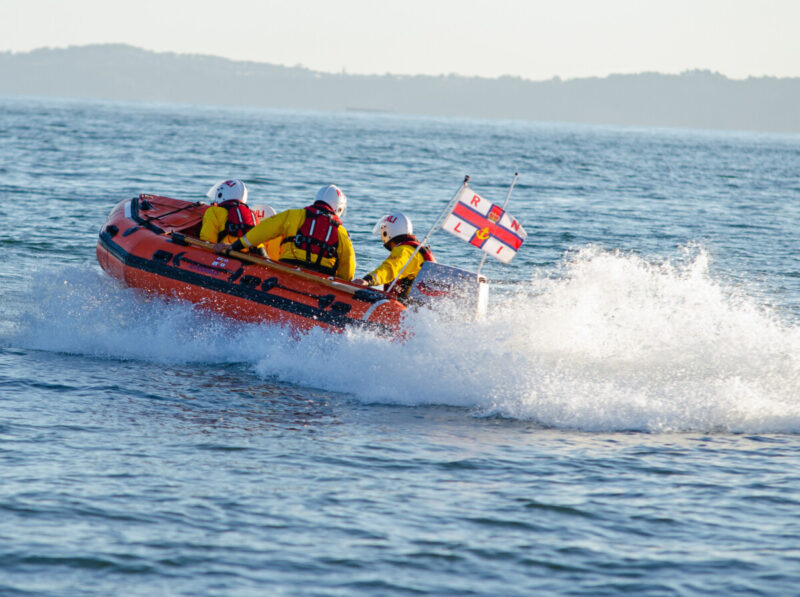 Busy afternoon for Exmouth's RNLI volunteers
The volunteer crew at Exmouth RNLI Lifeboat Station had a busy afternoon today, Saturday 1st August 2020, when they were tasked to two assignments within an hour of each other.
The first emergency was at 14:13hrs following a request from HM Coastguard to attend a report of a dog that had fallen from the cliffs at Budleigh Salterton just east of the River Otter mouth. Exmouth RNLI Inshore Lifeboat 'Peggy D' launched a few moments later commanded by Helm, Scott Ranft, and crew Henry Mock and Dave Preece.
They were tasked to assist the Exmouth Coastguard Rescue Team in the recovery of the animal that had fallen some distance down the cliff face.
The lifeboat made its way to the scene where the crew recovered the dog from the water.
Following the rescue, the lifeboat returned to Exmouth Lifeboat Station where it was back on service at 15:10hrs.
At 15:18hrs today Exmouth RNLI All Weather Lifeboat, Bridie O'Shea, was launched following a request from HM Coastguard to assist the crew of a 10m yacht on passage approximately 12 miles out across Lyme Bay who were reporting an engine malfunction.
The lifeboat launched at 15:29hrs under the command of Coxswain, Roy Stott, Mechanic Andy Stott, and volunteer crew Scott Ranft, David Preece and Robert Thompson and immediately made its way to the location of the vessel.
On their arrival with the yacht it became apparent that the mechanical difficulties as reported had been rectified to the satisfaction of the lifeboat crew and the vessel was able to make its own way to Brixham harbour without further incident.
The lifeboat then returned to Exmouth where it was back on service a short time later.