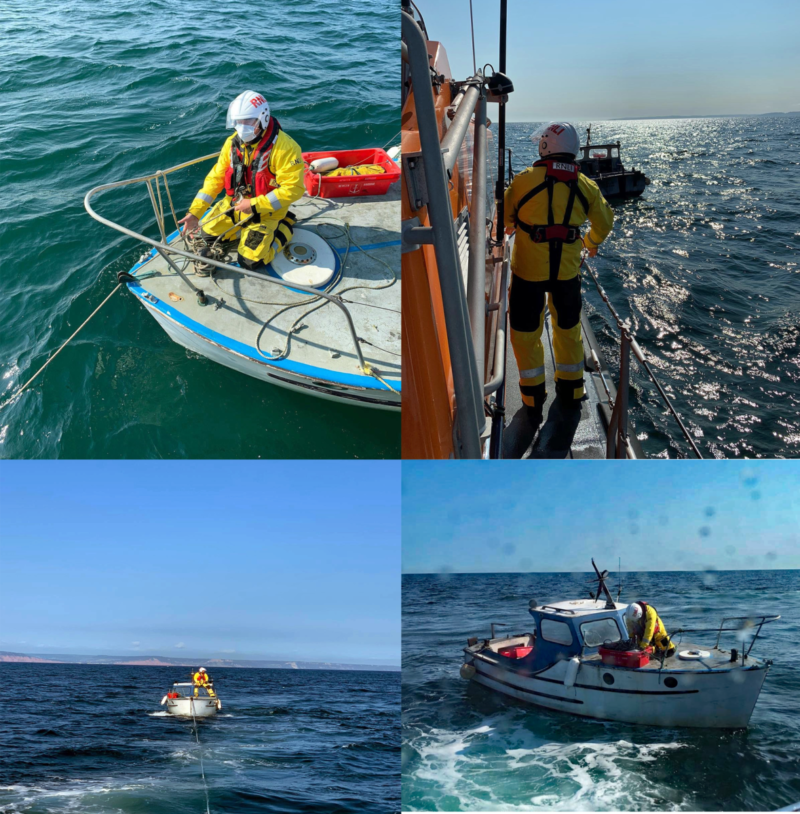 Double rescue assignments for Exmouth RNLI
Both Exmouth RNLI Lifeboats were launched this afternoon following multiple 999 calls to H.M. Coastguard.
At 13:53hrs today H.M. Coastguard tasked our RNLI All Weather Lifeboat, 13-33 Bridie O'Shea to multiple reports of red and white flares being sighted approximately 2 to 5 miles off Orcombe Point, Exmouth.
The lifeboat and it's volunteer crew was launched a few minutes later under the command of Deputy Coxswain Roy Stott, and crew members Andy Stott,  Robert Thompson, Dave Preece, Scott Ranft and James Edge. The Lifeboat sped  to the last reported sighting of the flares where, after a brief search, the crew located a 21ft Colvic motor boat.
The single occupant of the boat confirmed he was the source of the emergency flares and reported an engine fire that he had managed to extinguish prior to the arrival of the lifeboat. The fire had resulted in the loss of all power. The crew ascertained the situation on scene to ensure the safety of the vessel and its occupant before taking it on tow to the safety of shore at Brixham.
Simultaneously, numerous calls from members of the public were received by H.M. Coastguard reporting individuals in the sea some distance off Devon Cliffs and the Exmouth Inshore Lifeboat D-755 Peggy-D was assigned to conduct a search of the area.
The lifeboat, under the charge of Helm, Guy Munnings and crew James Searle and Henry Mock made its way to the area of the sightings but were stood down shortly afterwards when it was established that the individuals were swimmers who required no assistance.
The Inshore Lifeboat returned to station and was back on service shortly afterwards.
Deputy Coxswain of Exmouth RNLI's All Weather Lifeboat, Roy Stott, said "It's always important for members of the public not to think twice about contacting H.M. Coastguard if they notice someone they think is in trouble on the water. In this case the Coastguard was alerted numerous times to reports of flares being seen out to sea. We were fortunate enough to be able to act swiftly on that information and locate the vessel that had lost all engine and electrical power due to a fire on board. It's always good advice when heading out to sea to ensure that you have multiple means of communication in case of emergency and myself and my crew were pleased to assist in this successful rescue."
Having ensured the safety of the damaged boat, the Exmouth All Weather Lifeboat returned to Exmouth where it was back ready for service at 18:15hrs today.
RNLI Safety advice for motorboating and yacht sailing can be found at :   https://rnli.org/safety/choose-your-activity/yacht-sailing-and-motorboating