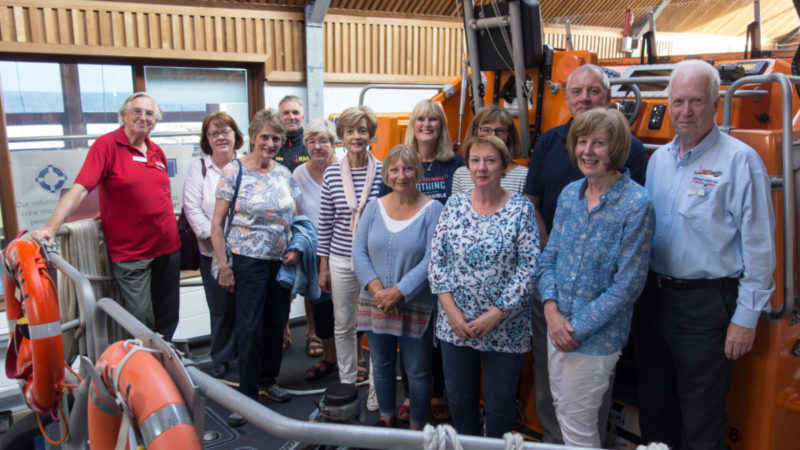 Exeter Tangent Club visits Exmouth Lifeboat Station
Members of the Exeter Tangent Club visited our Lifeboat Station last evening, Tuesday 6 August 2019. They were accompanied by the President of the National Association of Tangent Clubs, Sue Hill.
The ladies were given a guided tour of the lifeboat station, together with our all weather lifeboat, R & J Welburn and inshore lifeboat, George Bearman II, and the Exmouth RNLI Shop, and met several volunteers and crew members. They later enjoyed a fish and chip supper at the station.
Tangent Clubs are a social, networking and friendship group and part of the Round Table and 41 Clubs. The National Association are currently engaged in a fundraising initiative with 41 Club for the national RNLI. Through Charity lunches nationwide, raffles and other fundraising activities, they hope to raise £50,000 to purchase five jet ski's for RNLI Lifeguards.
Chairman of the Exeter Tangent Club, Tricia Blackburn, presented Exmouth RNLI with a donation of £100 and thanked our volunteers for their hospitality.
Chairman of Exmouth Lifeboat Management Group, Simon Davidson, said "We were very pleased to host the members of Exeter Tangent at the Lifeboat Station and I'd like to thank them on behalf of our volunteers for their kind donation and to wish them well in their quest to purchase the all important equipment for the RNLI Lifeguards."
For more information about visits to Exmouth RNLI Lifeboat Station, follow this link : http://www.exmouthlifeboat.org.uk/visits/