Exmouth Inshore Lifeboat launched to attend sick 2 year old child
Exmouth Inshore Lifeboat George Bearman II launched at 14:10hrs today, Saturday 27 July 2019 following a report from Solent Coastguard of a 2 year old child having breathing difficulties on the beach at Dawlish Warren.
The lifeboat, crewed by Helm, Henry Mock and crew volunteers, Sarah Beresford and Tim Barnes attended the scene immediately to assess the situation and administer casualty care if required.
An RNLI Lifeguard had already arrived at the location and was administering medical assistance.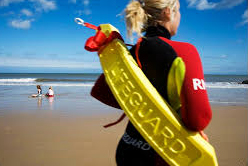 On the crews arrival it was established that the child had fully recovered and no further action was required.
The crew left the scene at 14:40hrs and the Inshore Lifeboat was back on station at 14:50 hrs today.