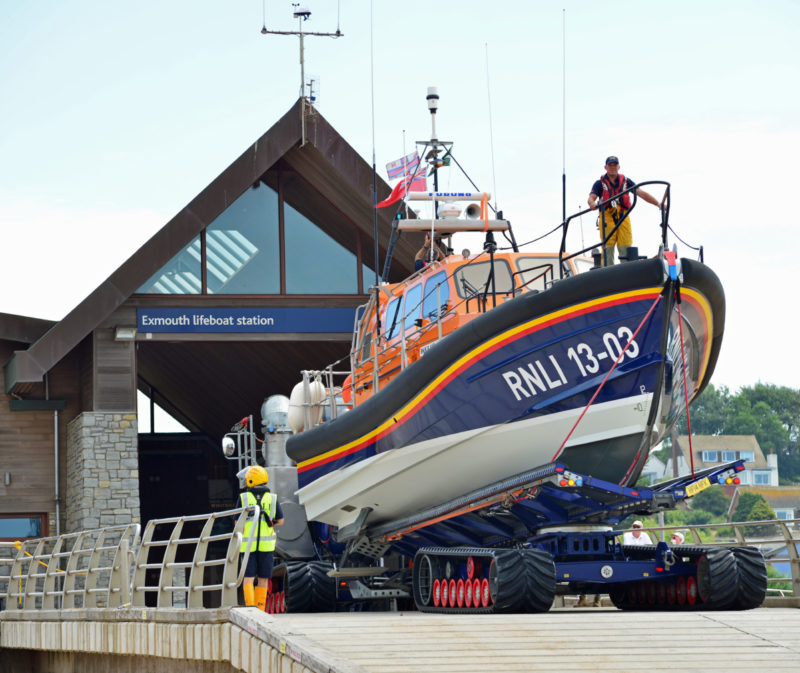 Exmouth RNLI Lifeboat Station looking to recruit volunteers
Exmouth RNLI are currently looking for volunteers to support their small team of dedicated volunteers to either help staff the RNLI Shop, as Fundraisers or to help as members of the Lifeboats Visits Team to provide free tours for the public at Exmouth RNLI Lifeboat Station.
The Lifeboat Visits Team host guided tours of the lifeboat station that take place on Saturday and Sunday throughout the year, during school holidays and at other times for organised groups who book a dedicated tour through the RNLI Exmouth website.  Full training will be given.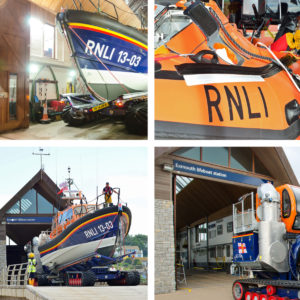 Lifeboat Visits Officer, Bill Lodge, would now like to hear from members of the community who would consider becoming involved. Bill says:
'Over the past three and a half years we have had an increasing demand from the public to visit our station and see the Shannon class lifeboat R and J Welburn, its launch and recovery system and D class inshore lifeboat George Bearman II. We are now seeking additional guides to ensure we can provide the required coverage in the future. This is a great opportunity to learn more about our charity and the work of our life-saving volunteers in Exmouth.
'We hope to attract people who are enthusiastic and have good communication skills, who are confident to deliver short talks to a diverse group of visitors throughout the year. Training will be given and prospective visitor guides will need to commit to a minimum of 2 shifts per month, normally on weekends.'
The shop is generally open most days subject to weather constraints, and volunteer availability, with volunteers working anything from 1 shift (3.5 hours) a month, to 2 shifts a week.  Exmouth RNLI are looking for people to volunteer, particularly for shifts on Fridays Saturdays or Sundays. No previous retail experience is required and full training in all aspects of the shop will be given.
Exmouth RNLI Volunteer Shop Manager, Pat Atkinson, said, "Our volunteers all help for differing reasons, but they all also have a common desire to support and raise money for the RNLI to help saving lives at sea.  Whilst some of our Volunteers are of advancing years, as well as willingly giving their time to the RNLI, they also benefit from friendship and companionship from being part of one big team: the Exmouth RNLI Family."
"We also attend many 'outside' events during the year, having a stall and selling RNLI merchandise and raising awareness of the RNLI, often with our Community Safety Officer at our side. Examples are various Community events in Exmouth Town, (Transplant awareness Day, Armed Forces day etc), at the Met office in Exeter, Budleigh Salterton Gala week – again, our Volunteers give up their time to man these events and this is a great opportunity for anyone wishing to come along and join us in this rewarding work."
The Lifeboat Station is also looking to increase its volunteer Fundraisers. Covering Exmouth, Budleigh Salterton and neighbouring villages of Lympstone and Woodbury, local RNLI Fundraisers help to organise an Open Day, Coffee Mornings, Sea Sunday and Christmas Carol services each year. There is also a dedicated team of volunteers to carry out supermarket and street collections, in all weathers.
Chair of the Exmouth RNLI Fundraising Team, Robin Humphreys, said "We are always looking for new volunteers, opportunities and ideas to help fundraise for our RNLI lifeboat station, so if you'd like to get involved, we'd love to hear from you."
To volunteer for any of these roles, please contact RNLI Volunteering at 01202 664366 or via email at volunteering@rnli.org.uk or online at http://www.rnli.org/volroles