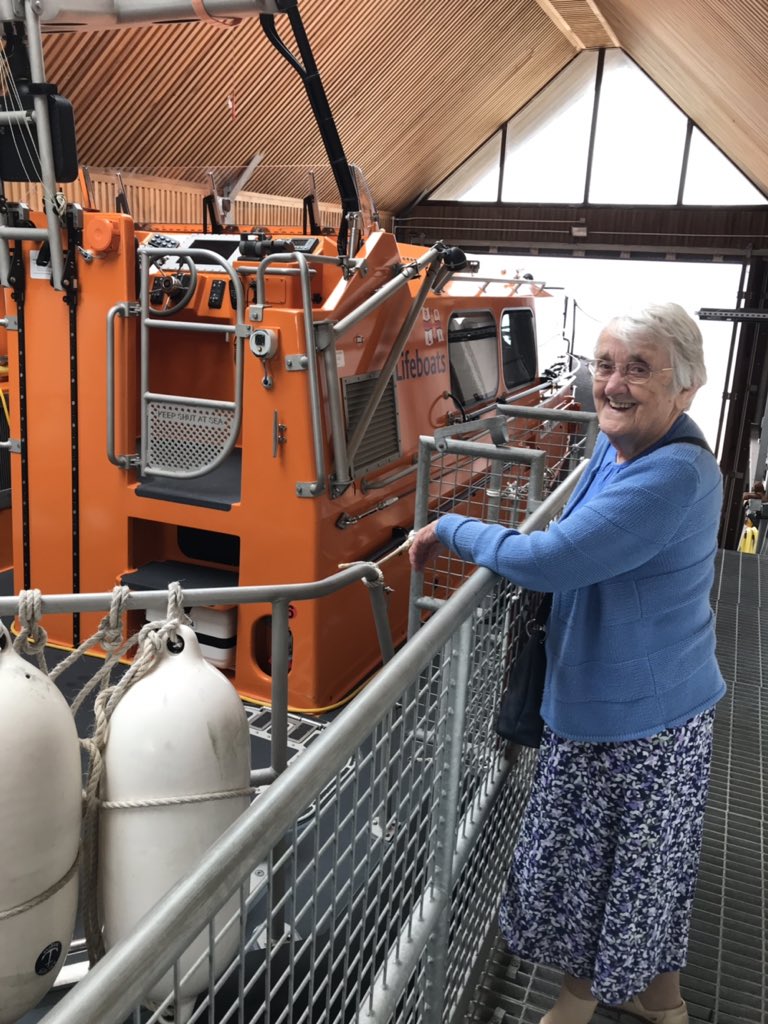 Exmouth Lifeboat supporter donates £500 for her 90th Birthday
Exmouth RNLI Lifeboat Supporter Myrt CLARK recently donated £500 to the local charity in lieu of presents for her 90th birthday this July.
She came to Exmouth Lifeboat Station on Saturday 3 August 2019 where she, and her nephew Geoff Searle, an avid RNLI supporter himself, were given a special tour of the station and its two Lifeboats, the All Weather Lifeboat, R & J Welburn and the Inshore Lifeboat George Bearman II.
Geoff said "My Aunt has lived in Crediton all her life and loves Exmouth. She has never been to sea but has always admired the RNLI and has donated for many years.  She didn't want anything big for her 90th birthday so we decided to donate to Exmouth Lifeboat for her, which she was thrilled with!  We were pleased to donate £500 towards the cost of Exmouth crew training.
We did the same for her 80th, which was when the new station had just been built but wasn't yet operational. She met the then Coxswain, Tim Mock, and donated money which paid for cutlery and crockery for the crew room for their new base.
She had a lovely time yesterday and thoroughly enjoyed her tour of the Lifeboat Station, Pauline, the Tour Guide who showed her around was wonderful, and crew Tom Hartnell was a big hit with her!"
Exmouth RNLI Lifeboat Operations Manager, Mike Gall, said, "This was a lovely gesture and very generous donation made to Exmouth RNLI by Myrt and I would like to thank her on behalf of the Exmouth RNLI volunteers. I'm pleased she enjoyed her tour of the station and hope she had a very enjoyable birthday"
Myrt was the first to use Exmouth RNLI's new Facebook page 'Donate Now' link that allows users to make direct donations to our charity that relies on such support to allow its volunteers to continue its quest to save lives at sea.
Anyone wishing to use the direct donation link on our Facebook page will find it on our Exmouth RNLI page here :  https://www.facebook.com/ExmouthRNLI/