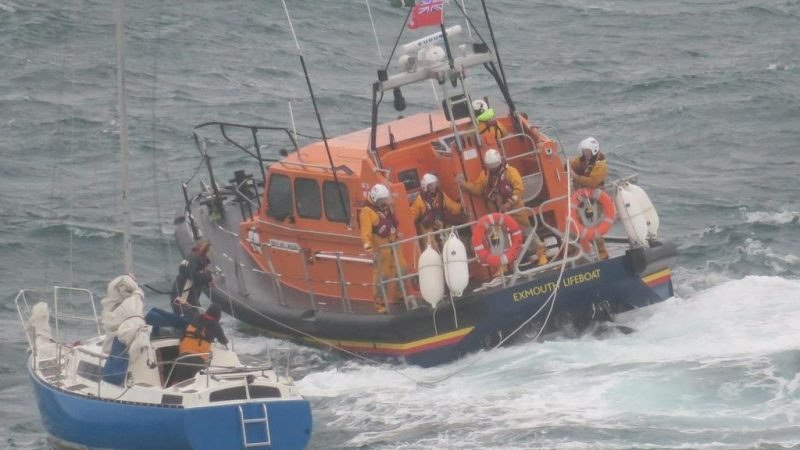 Exmouth Lifeboat tasked to disabled Yacht in Lyme Bay
Visitors to Exmouth RNLI's Open Day witnessed a real-life emergency launch on Sunday when the station's Shannon class lifeboat was tasked to a disabled yacht in Lyme Bay.
Supporters were enjoying having a look around the lifeboat station on Sunday (26 August) when the pagers sounded shortly before 12.30pm. The Shannon class lifeboat R and J Welburn launched in-front of a packed crowd in force 6-7 winds and wet conditions. In extremely rough seas, including waves 4-5 metres high, volunteer deputy coxswain Ian Taylor navigated his crew of six to the scene.
Once on scene the lifeboat crews found a Navy vessel providing shelter to the 28-ft vessel, which had suffered a broken tiller and was around three miles offshore. The two men on board were both uninjured and happy to stay with the vessel, so they assisted the lifeboat volunteers in securing a tow line. The lifeboat then towed the boat around Portland Bill and into Weymouth harbour.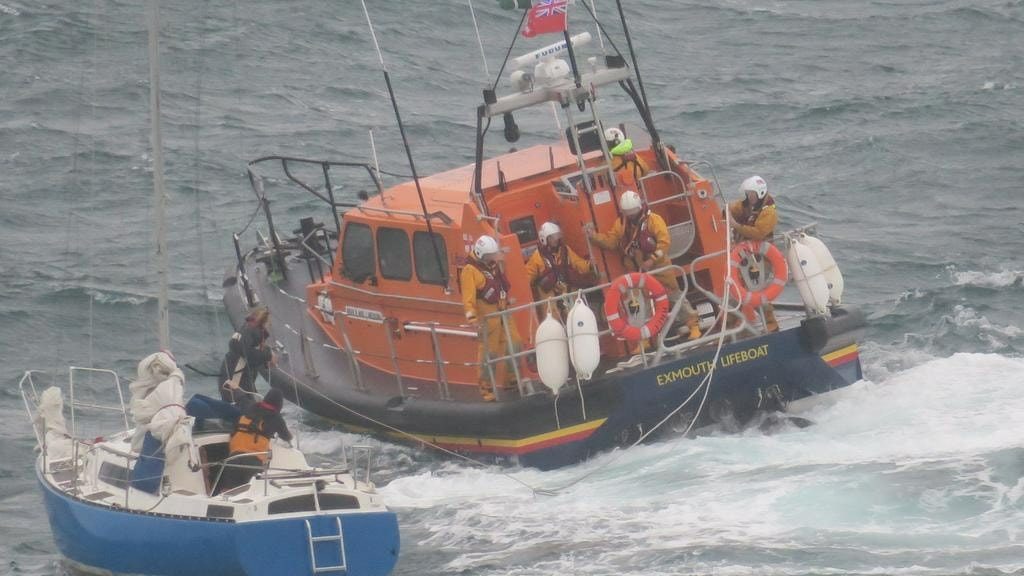 After ensuring the yacht and its two crew were safe in harbour, the lifeboat returned to Exmouth.
Volunteer deputy coxswain Ian Taylor explained: 'The yacht's tiller had broken earlier in the day but as there was no working VHF radio on the Yacht, the casualties sailed towards the land to get mobile phone signal in order to raise the alarm.
'The forecast was certainly correct, and I think we experienced a few waves over five metres. It meant we had to proceed at a slower speed but the lifeboat definitely proved its worth and capability in how well it dealt with the conditions. I have been to sea as crew in rough conditions but this was the first as coxswain, in charge of the lifeboat and the volunteer crew, and it will definitely be a shout I remember.'
Weymouth's all-weather lifeboat was on restricted service for a few hours on Sunday at the time the call came in due to a suspected fouled propeller, so its flank lifeboat station at Exmouth responded to the incident instead.
The volunteer lifeboat crew arrived back at Exmouth at around 8.45pm, eight hours after originally launching.
John Thorogood from Exmouth RNLI's fundraising team, added: 'Our grateful thanks go to all those who came along and supported our Exmouth RNLI Open Day on Sunday, and for turning out in unpleasant weather conditions. We hope you all gained an insight into the work of our RNLI volunteers and the equipment they use, and enjoyed the chance to watch a real life emergency launch in action.'