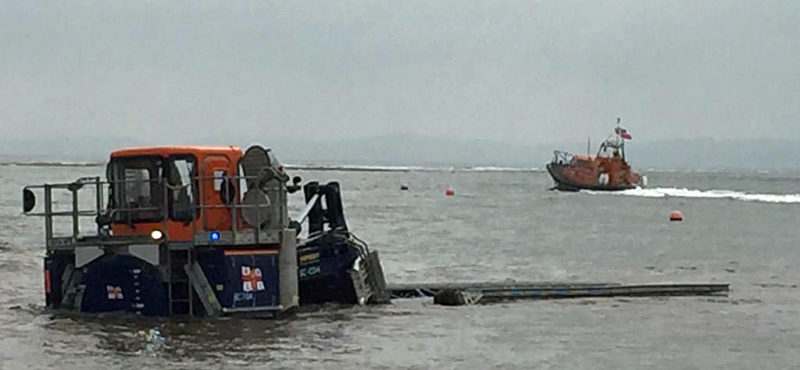 Exmouth RNLI All Weather Lifeboat searches for missing diver
At 15:46hrs today, Saturday 25 April 2020 Exmouth's RNLI temporary All Weather Lifeboat 13-33 Bridie O'Shea was alerted by H.M. Coastguard to a report of a missing diver four miles off the coast of Seatown, Dorset.
Following the alert the Lifeboat was launched shortly afterwards at 16:03hrs and under the command of Deputy Coxswain, Roger Jackson and volunteer Crew, immediately made its way to the area. Once on the scene they were assisted in a search of the area by Lyme Regis RNLI Atlantic Class Lifeboat B857 Spirit of Loch Fyne, a Royal Navy ship HMS Tyne, an H.M. Coastguard helicopter from Newquay and other vessels in the area.
  After a brief search the missing diver was located safe and well and taken to safety.
He had been diving without a buddy and adrift for two hours in which time he floated three miles from his last reported location. He had surfaced safely but lost sight of the dive vessel after his line became detached. He did not require medical attention.
Both the diver and his companion were met by Police once back on shore.
The Lifeboat returned to Exmouth RNLI Lifeboat Station at 18:13hrs and was back on station ready for service shortly afterwards.
Exmouth RNLI Deputy Coxswain, Roger Jackson, said, "The diver was very fortunate to have been located safe and well so quickly and, although there was an easterly swell, visibility was good and there were a number of vessels in the locality who came to help in the search. We are grateful for the invaluable assistance of our RNLI colleagues from Lyme Regis, the crew of HMS Tyne, Lyme Regis Coastguard Rescue Team, the HM Coastguard helicopter and other vessels in the area that came together in a coordinated effort that led to this successful rescue. The diver was very lucky indeed and although I'm very pleased the outcome was good, I would urge everyone to please heed the latest government Coronavirus instructions."