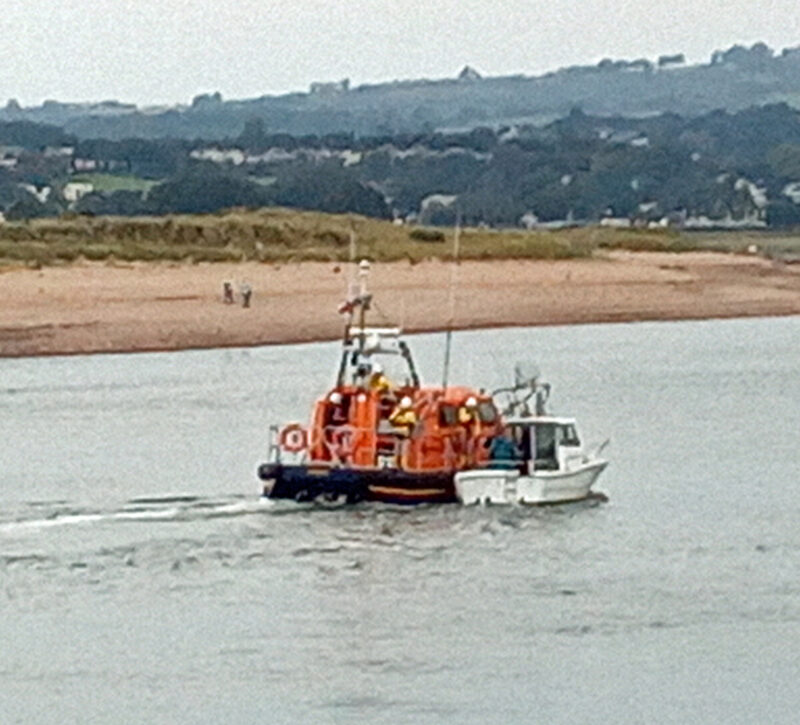 Exmouth RNLI called to rescue broken down boat
Exmouth RNLI All Weather Lifeboat was launched this morning to attend a report of a broken down motorboat with engine problems.
At 10.22hrs today H.M. Coastguard tasked our RNLI All Weather Lifeboat, 13-33 Bridie O'Shea to a report of a motorboat approximately 3 miles east of Teignmouth that had lost engine power as a result of a cam belt failure.
The lifeboat and it's volunteer crew was launched a few minutes later under the command of Coxswain Steve Hockings-Thompson, and crew members Andy Stott, Paul Balbi, Tim Barnes, Charles Swale and James Edge. The Lifeboat made its way to the 21ft motor boat where the crew assessed the situation, made safe the three occupants and took the vessel under tow. No one was injured.
Coxswain of Exmouth RNLI's All Weather Lifeboat, Steve Hockings-Thompson, said "This is the second incident our Lifeboat has attended involving engine failure this week. It is essential that water users keep their power units properly serviced and in good order and to ensure that communication equipment is in full working condition. Our crew made safe the boat before towing it to Exmouth Marina and we were pleased that this incident resulted in a successful outcome."
At 13:00hrs the lifeboat had secured the vessel and its crew at Exmouth and was back ready for service a short time afterwards.
RNLI Safety advice for motorboating and yacht sailing can be found at :   https://rnli.org/safety/choose-your-activity/yacht-sailing-and-motorboating