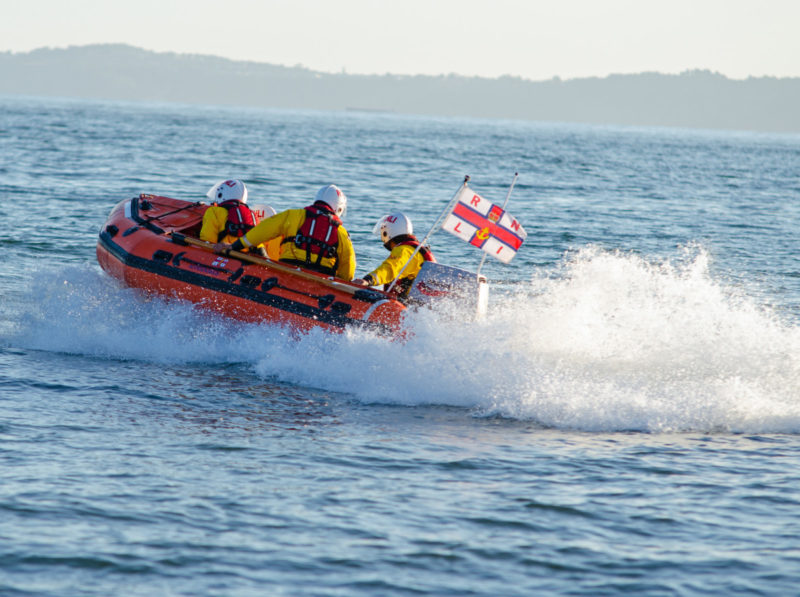 Exmouth RNLI Lifeboats rescue swimmer in difficulty
At 17:11 hrs today, Monday 25 May 2020 Exmouth's RNLI temporary lifeboats, the Inshore Lifeboat D-755 Peggy D  and All Weather Lifeboat 13-33 Bridie O'Shea were alerted by H.M. Coastguard following multiple reports of a swimmer in difficulties off the beach at Budleigh Salterton.
The lifeboats were launched immediately by volunteer crew members – the Inshore Lifeboat commanded by Helm, Henry Mock and the All Weather Lifeboat under the charge of Coxswain Steve Hockings-Thompson. They immediately made their way to the area off Budleigh Beach to commence an extensive search for the swimmer.     
After a brief search the swimmer was located over half a mile offshore and rescued from the water. He was taken to the safety of shore at Budleigh Salterton by the crew of the inshore iifeboat where he was met by members of H.M. Coastguard. He did not sustain any injuries or require medical assistance.
On completion of the assignments both lifeboats made their way back to Exmouth Lifeboat Station. En route the crew of the inshore lifeboat saw a group of ten individuals walking on the beach around Orcombe Point, Exmouth towards Sandy Bay at a time when the incoming tide could have presented a hazard. The group were given advice by the crew members and kept under observation until they had reached a safe area.
Both lifeboats were back on station by 18:40hrs and ready for service shortly afterwards.
Exmouth RNLI Helm, Henry Mock said "This was a very serious incident in which a gentleman had gone into the sea at Budleigh Salterton whilst not in a proper state to swim. He had got into difficulties almost immediately and found himself being swept out. It was very fortunate that several members of the public had witnessed the incident, dialled 999 for help, and we were able to get to the scene very quickly to give assistance. It was clear to me that the man was not capable of swimming back to shore himself. I would urge anyone thinking of swimming in the sea to make sure you are equipped, fit and able to do so, that it's safe to swim and you are aware of the tides, current and the wave conditions. I'm glad this was a successful rescue and no-one came to any harm."
As the charity that saves lives at sea, the RNLI have published dedicated 'Know The Risks' water safety advice that can be found on the national RNLI website at :
https://rnli.org/safety/know-the-risks
Exmouth RNLI have designated volunteer safety advisors, led by Community Safety Officer, Dave Littlefield and further information can be found here :