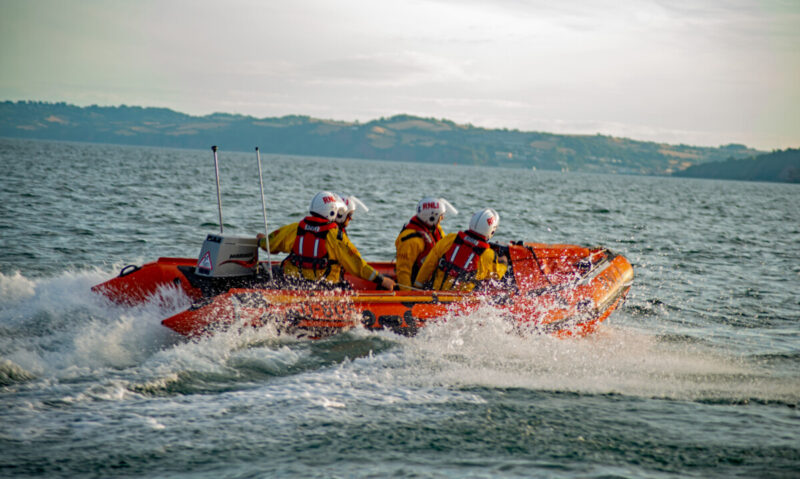 Exmouth RNLI tasked to attend report of unresponsive swimmer
Exmouth RNLI lifesaving volunteers were tasked this evening to a report of an unresponsive swimmer in the sea off Holcombe.
At 6.10pm today Wednesday 27 July 2022, H.M. Coastguard requested the launch of both Exmouth RNLI all weather lifeboat 13-03 R & J Welburn and inshore lifeboat D-805 George Bearman II to a report of an unresponsive swimmer east of Holcombe.
The volunteer lifesavers, who were at Exmouth Lifeboat Station on exercise, launched immediately and, together with Teignmouth B-Class lifeboat B-809 The Two Annes, an H.M. Coastguard Rescue Helicopter, commenced a search of the locality. They quickly located the casualty, who had been free diving in the area, and he was taken on board the Teignmouth lifeboat, given emergency first aid and conveyed to Teignmouth Lifeboat Station where he was further treated by an ambulance crew and conveyed to hospital. A Coastguard Rescue Team and Air Ambulance also attended the incident,.
Both Exmouth RNLI lifeboats were then stood down and resumed their training exercise.
Exmouth RNLI volunteer lifesavers who took part in the assignment were :
All Weather Lifeboat : Coxswain : Steve Hockings-Thompson, Lifeboat Mechanic : Mark Sansom and crew Roger Jackson, Peter Aitken, Charles Swales and Dougie Wright.
Inshore Lifeboat : Helm : Harry Griffin, Geoff Mills, James Edge and Nick Wright
Other volunteers involved were Deputy Launch Authority, Rob Vince. Shore Crew : Head Launcher : John Dinsdale, Tractor Driver : Karl Halford, Rory Carrig, Paul Dean, Steve Woodbridge and Jake Richards.