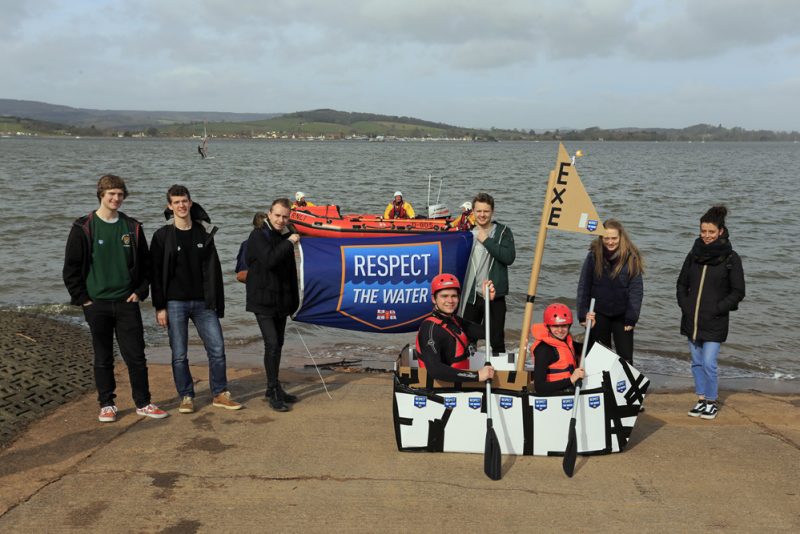 Exmouth RNLI volunteers assist students' cardboard boat challenge
On 23 March, Crew and Community Safety volunteers from Exmouth lifeboat station supported Exeter University students in their cardboard boat challenge, on the river Exe.
The team from Exeter University College of Engineering, Maths and Physical Science were set the task of designing a boat out of two cardboard boxes in three hours, to carry two people on the water. The lifeboat station were approached for advice to see if it was possible to test the boat named All a-cardboard on open water in Exmouth. Community Safety Officer, Dave Littlefield advised the students on tides and suggested a safe location known locally as the Duckpond.
Inshore lifeboat volunteers, who were on exercise with D class lifeboat George Bearman II in the river Exe, helped the two students into All a-cardboard at high tide, which was waist-deep. They were both suitably dressed for their own protection in the cold water. Watched by their supporting team mates, RNLI Lifeguards, Exmouth RNLI Community Safety team and members of the public, Jack and Talia had three brave attempts to keep the boat afloat before it became too wet and eventually collapsed.
The students had visited the Duckpond the previous day when it was flat calm water. However, at the time of testing, the conditions had changed to light wind and gentle waves. Dave had given safety advice and spoken about the charity's Respect the Water campaign. He said:
'This was the first time the students had tested the cardboard boat on open water, as usually a swimming pool is used. It was a good opportunity to show the students the difference and see the unpredictability of water first hand, briefing them on our Respect the Water campaign. It was great fun but with serious safety messages delivered which hopefully will stay with them for the rest of their lives.'