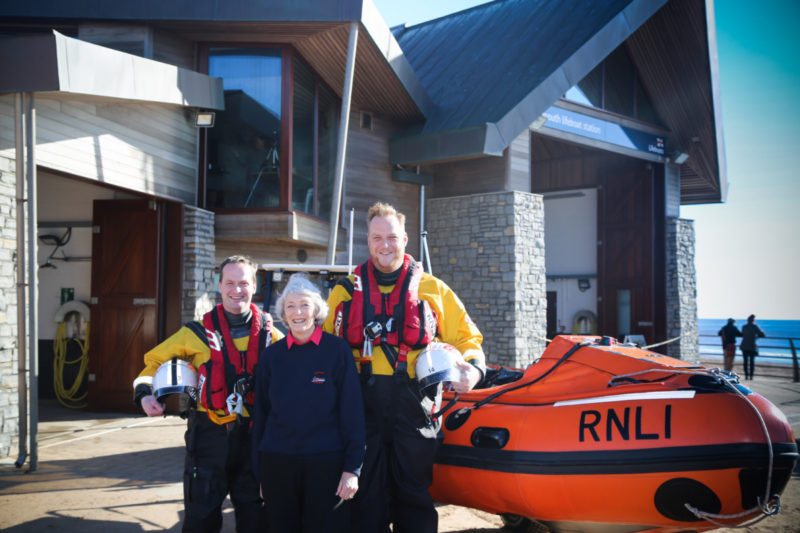 Exmouth RNLI volunteers past and present look forward to meeting their new inshore lifeboat
Event: Arrival of George Bearman II inshore D class lifeboat
Venue: Exmouth lifeboat station, Queens Drive, Exmouth EX8 2AY
Date: Thursday 12 January 11am
The volunteer team at Exmouth RNLI lifeboat station are eagerly awaiting the arrival of their new D class George Bearman II on the morning of 12 January.
Chairman of the Exmouth Lifeboat Management Group, Darryl Nicholas explained:
'This new inshore lifeboat is unique in the history of Exmouth RNLI as it is a first for the station having consecutive lifeboats funded by the same donor. The prime wish of the donor, Ms Pauline Smith is to be at the station when it arrives, to see and support us as best she can.'
The event will be informal and consist of present and past volunteers who have served on inshore lifeboats at Exmouth over the last 50 years.
The official Naming Ceremony for George Bearman II will be held in late Spring 2017.
Since this is an informal event, there are no set timings but will follow roughly this order:
10am Shannon class lifeboat R and J Welburn will be moved onto the ramp.
Presentations to Fundraising volunteers Jean Carpenter and Mike Baldwin by former RNLI Chairman, Charles Hunter-Pease.
Donor, Pauline Smith and party arrive.
George Bearman is launched.
11am George Bearman II arrives by road and is briefly assembled and launched.
Photos of George Bearman and George Bearman II together afloat.
George Bearman II is recovered to the boathouse for the first time.
George Bearman is recovered and taken away to join the charity's relief fleet.
(All timings are subject to operational requirements on the day)
Please note:
• The lifeboat station will not be open to the public.
• There is no parking available at the station. Please use the pay and display car park at Foxholes and continue to the station on foot.
• Shannon class lifeboat R and J Welburn will not be afloat or launching.