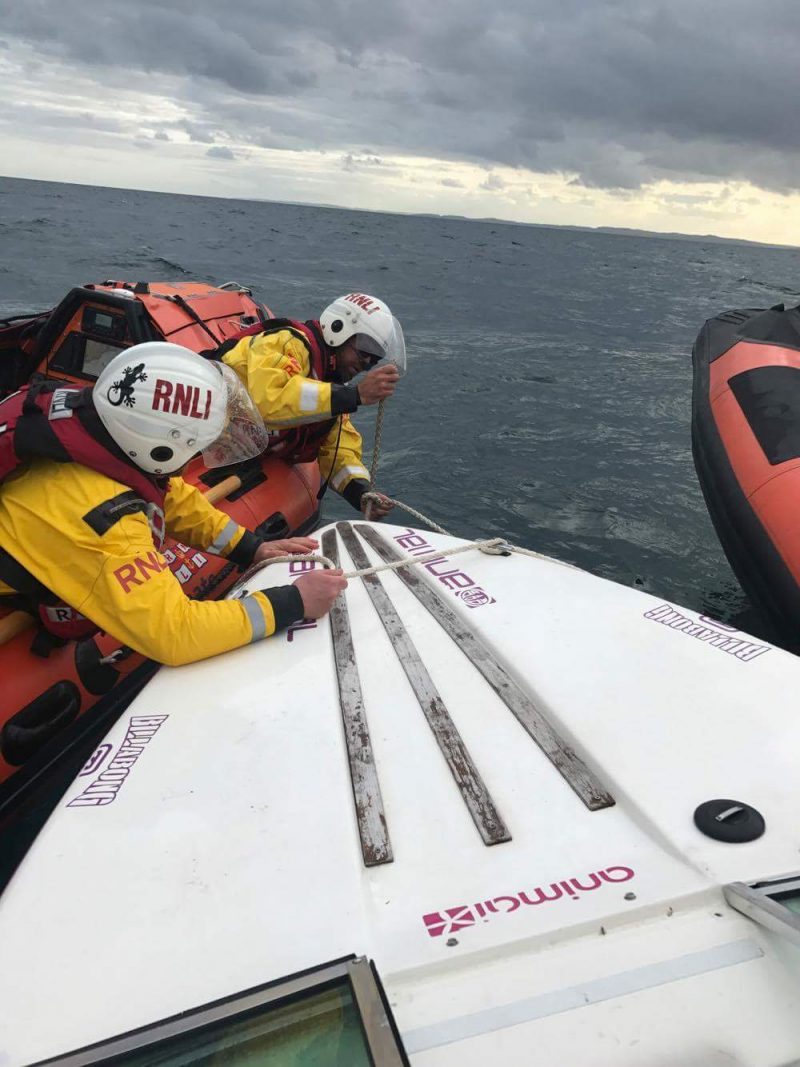 Exmouth and Sidmouth lifeboat volunteers rescue four people in broken down speedboat.
Exmouth's inshore lifeboat George Bearman II launched at 6.15pm on 19 August following a call to the UK Coastguard from a broken down speedboat off Budleigh Salterton. Volunteers worked with Sidmouth lifeboat to tow casualties back to safety.
Exmouth RNLI's crew located the 18' speedboat with two adults and two children on board, within 20 minutes. A volunteer was put on board to establish a tow back to Exmouth. Sidmouth lifeboat was on scene shortly after and it was decided Pride of Sidmouth, an Atlantic-sized lifeboat was more suitable to tow the casualty vessel. The two young casualties were transferred to Pride of Sidmouth and the two adults stayed on board their speedboat with the Exmouth Crew volunteer, under tow.
Both volunteer lifeboat crews arrived at Mamhead slipway at 7.30pm where the Exmouth Coastguard Response Team were waiting. The casualties were taken ashore and Exmouth Crew volunteers assisted with recovery onto the slipway. The casualties were given suitable safety advice by both Exmouth RNLI and Exmouth Coastguard teams.
Helm, David Preece described the scene:
'The location was loosely described as 'somewhere off Budleigh Salterton'. The only means of communication and navigation the casualties had was a mobile phone and they'd used an application to find their location. We located them 2.5 miles south of Otterton Ledge, a bit further than we expected. Sidmouth lifeboat took over the tow from us as it was a larger lifeboat and therefore, considered more comfortable for the casualties in a 4-5 mile head to wind tow.
'The speedboat had suffered engine failure and they had used their mobile to call for help. We strongly encourage the use of a VHF radio and more reliable navigation aids to help search and rescue agencies locate people in difficulty, quickly.'
RNLI Area Lifesaving Manager for Lyme Bay, Nigel Jones said:
'This is an excellent example of the two volunteer crews working together, seamlessly. Our flank independent lifeboat stations are a great asset to Lyme Bay and join our charity's lifeboats to cover all operational needs to save lives at sea.'
Sidmouth lifeboat towing D class George Bearman II Pride of Sidmouth Exmouth Coastguard Response Team