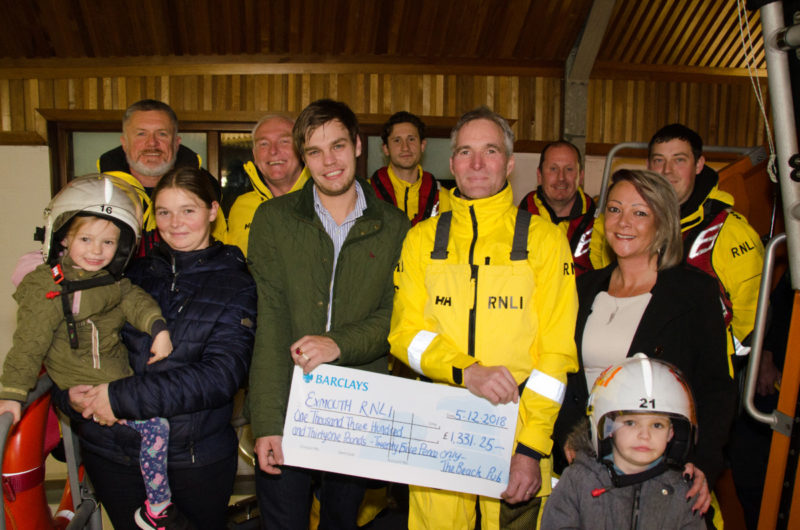 Exmouth's Beach Pub raises over £1,300 for Exmouth RNLI
Josh PIDGEON and his partner Jemma HARLOW, Landlords of the Beach Pub, Victoria Road, Exmouth were amazed when a Charity Casino Event held at their establishment in November raised a massive £2,662.50 to be divided between two major local charities, Exmouth & Lympstone Hospicare and Exmouth RNLI.
The exciting fundraising evening with refreshments, live music and entertainment was supported by donations from an auction and raffle, with many local businesses generously offering prizes.
Josh said, "I'd like to thank all those wonderful local people who supported this fundraiser. I'd particularly like to thank all of those generous local businesses who helped make this happen, especially Exmouth Property Rentals, M.J. Baker, Tolchards, Anna Fitzgerald Art, Daffodils Florists, Darts Farm, Stuart Line Cruises, Westpoint, The Saddlers in Lympstone, Exe Mills Carpets, Fish on the Quay, Foot Golf on the Exe, World of Country Life, Exmouth Musical Theatre Co., Peter Dixon Chandlery, Tom Hurley, Proserve, Reflexetions, The Snack Shack, Uncle G's Tattooist, Elizaberth Hair Salon and Poppy Paws."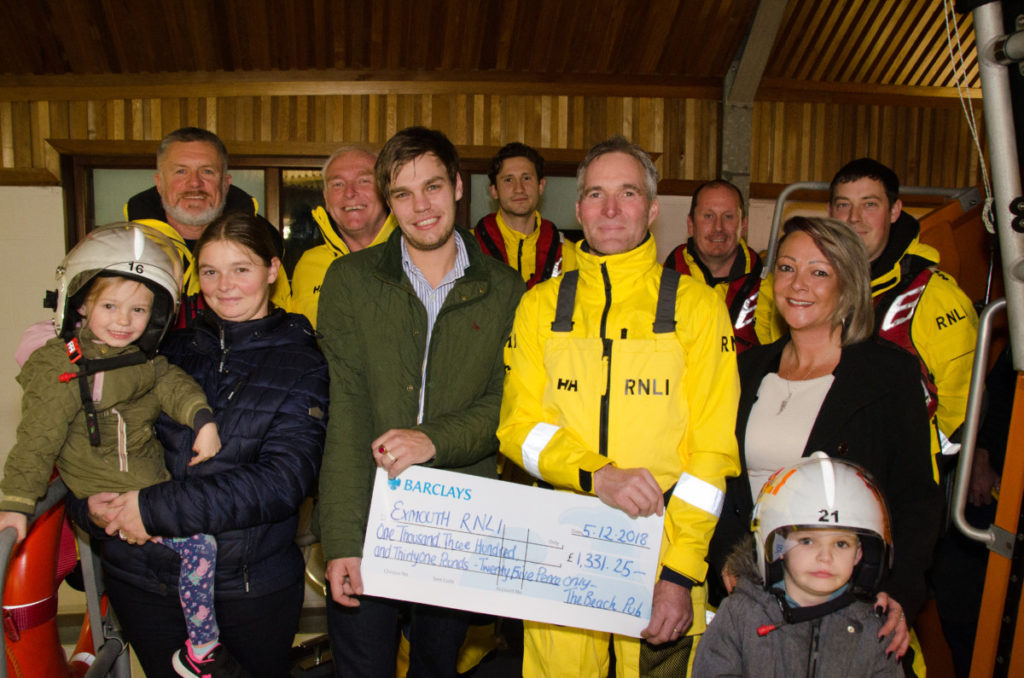 Chair of the Exmouth Lifeboat Management Committee, Simon Davidson, commented, "The amount raised by the Beach team through this event was fantastic as was the support and the prizes provided by the local businesses. Exmouth RNLI are both proud and grateful to have been selected as one of the recipient charities. The support of the local community is vital to the RNLI's success"
Josh and Jemma are pleased that their fundraiser has helped towards providing the crew with the new Helly Hansen all-weather lifeboat clothing being issued by the RNLI nationally. The new kit, being worn in the photograph by Coxswain, Steve Hockings-Thompson, is breathable, designed to allow greater freedom of movement, provide better endurance levels, comfort and protection for the charity's volunteer crew members in harsh conditions.
Waterproof, breathable and considerably lighter than the kit it will replace, the technical layering system will ensure crew members will keep warm and dry when they're out saving lives in all conditions.
Photograph :
Front Row left to right : Georgia Pidgeon, Jemma Harlow, Josh Pidgeon presenting a cheque to Exmouth RNLI Coxswain, Steve Hockings-Thompson, Beach Pub Events Organiser, Jaqui Dye and Alfie Pidgeon. Back row, various members of the Lifeboat Crew.