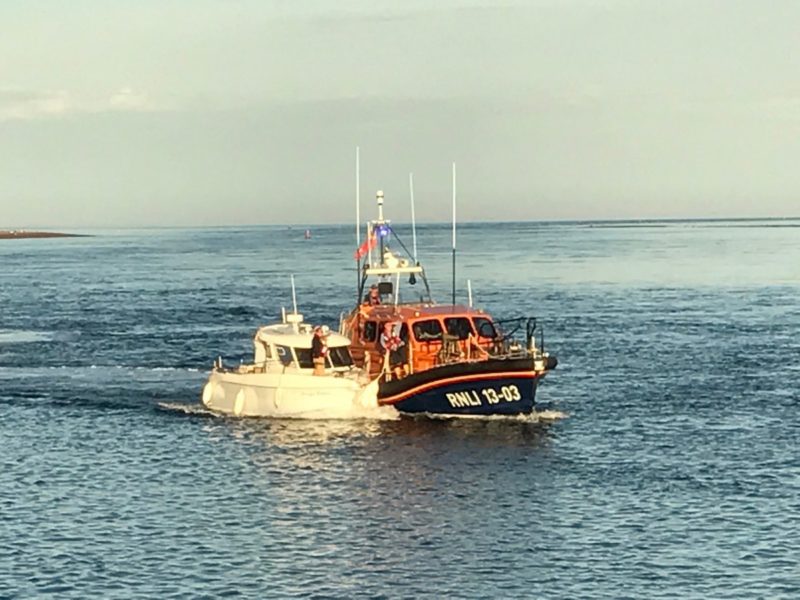 Exmouth's volunteers tasked to fishing boat in difficulty during the Institution's inspection
Crew volunteers were tasked by the UK Coastguard at 7pm on Wednesday 5 July to the aid of a broken down fishing boat nine miles south of the Exe estuary. Shannon class lifeboat R and J Welburn was on exercise during an RNLI three-yearly inspection.
The 27' motorised fishing vessel was towed back to their mooring in the river Exe and the three casualties on board were taken ashore. The three RNLI surveyors continued the engine trials of R and J Welburn after the service and returned to station at approximately 9.30pm.
Lifeboat Operations Manager, Kevin Riley said:
'All RNLI stations are subjected to comprehensive three-yearly inspections which includes checking our lifeboats are running to the highest standard set by our charity to save lives at sea. Even when we are on inspection, exercise or on trials, our volunteers are always on call to people in difficulty.'
On 6 July, Crew volunteers were tasked following two separate calls to the UK Coastguard concerning the welfare of a man and a two year old child at the extreme end of Sandy Bay point, possibly in danger of being cut off by the tide. Inshore lifeboat George Bearman II launched at 7.31pm and was on scene within seven minutes. Both the man and child were safely on the beach and volunteers stood by until Exmouth Coastguard Rescue Team arrived to handle the situation.