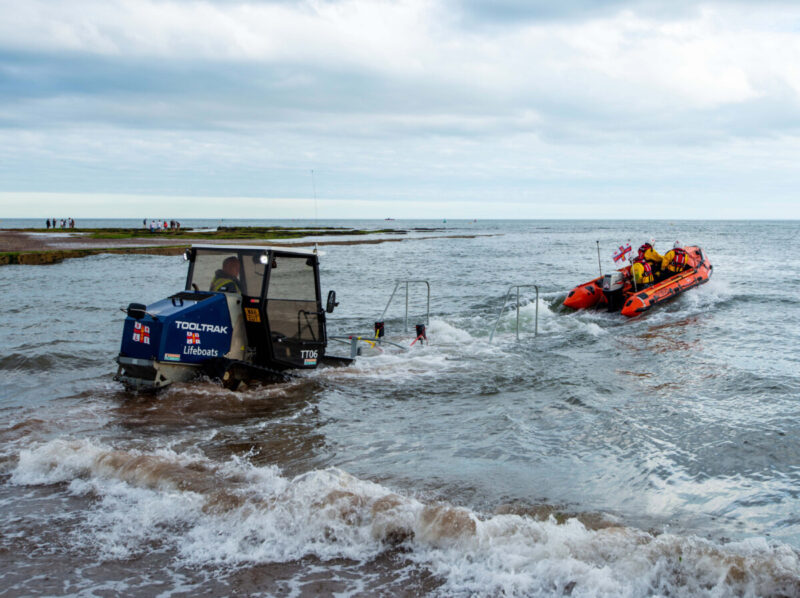 Jet-ski trouble leads to Exmouth RNLI rescue
At 7.53pm today Thursday 4 August 2022, H.M. Coastguard requested the attendance of Exmouth inshore lifeboat D-805 George Bearman II following a 999 call reporting a broken down jetski seen off Orcombe Point, Exmouth. The craft reportedly had engine failure, was sitting low in the water with the rider struggling to swim ashore with the vessel.
The crew launched at 7.59pm and sped to the area, quickly locating the casualty who had, by this time, made it to the beach off Orcombe Point. The RNLI lifesavers conducted an assessment, decided to take the casualty on board and tow the waterlogged vessel to safety.
Having brought the casualty to Exmouth Lifeboat Station and secured the vessel, the lifeboat stood down at 8.30pm, and was back ready for service shortly afterwards.
Exmouth RNLI volunteer lifesavers who took part in the assignment were :
Inshore Lifeboat : Helm : Harry Griffin, Nick Wright and Mark Cockman.
Other volunteers involved were Deputy Launch Authority, Dave Ashman. Tractor Driver : James Searle. Shore Crew : David Preece and Ed Thomas.
If you find yourself in an emergency situation or spot someone else in trouble, you should always call 999 or 112 and ask for the coastguard. When you take a craft to sea, always let someone know where you are going and when you will be back. Always wear a lifejacket and take a means of calling for help.