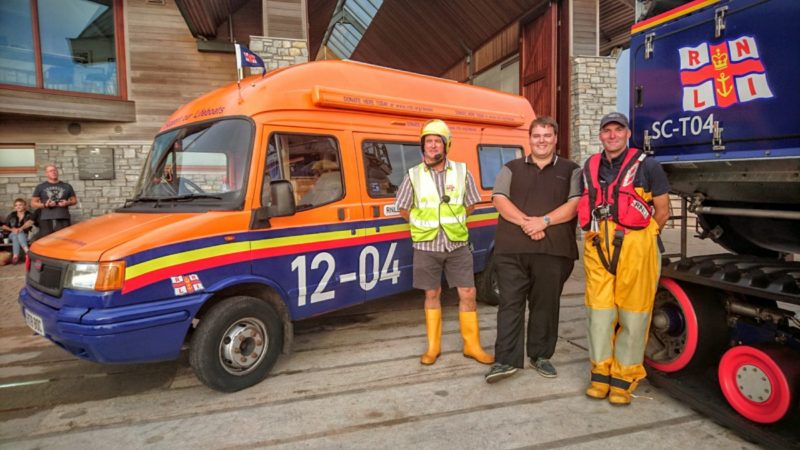 Respect The Water: Jared, Richard and Dan's story to help prevent drownings
Three former casualties saved by Exmouth RNLI volunteers are actively promoting the charity's Respect The Water campaign to prevent drowning incidents occurring. Their rescue on 12 April, 2015 changed their lives and Jared Colclough, Richard Smith and Dan Morton are determined to give something back to the charity that saves lives at sea.
Exmouth lifeboat volunteers were pleased to welcome the trio from Taunton in their publicity van at their Open Day on 21 August this year. Since May, they had been transforming the vehicle in readiness for seasonal events to promote the work of the Institution. The charity's staff at Poole headquarters offered visual guidelines and advice to the team to work with and supplied promotional Respect The Water campaign literature and giveaways. Jared is willing to lend the vehicle to other volunteers who wish to promote RNLI campaigns and fundraising appeals.
Jared says:
'We checked with staff that it was OK to use the date of our rescue as the lifeboat number. We were pleased to hear that there was in fact no 12-04 Mersey class lifeboat, so we could use it!'
It took Jared four months to get back onto the water and he undertook recognised training and awareness courses to ensure that the traumatic experience was never repeated. He dedicated time and money to teach himself key skills he should have acquired before he had taken to the water in the first place. With a number of RYA sailing and powerboat qualifications under his belt and along with experience as a Sailing Leadership Team member with the Morning Star Trust in Kent, he has now gained a RYA Day Skipper ticket.
At Sea Cadets, both Jared and Richard give Sea Safety talks and hope that their first-hand experience and knowledge of the dangers of the sea drives home the importance of preparation and suitable equipment. Meanwhile, Richard has increased his knowledge of boat use and procedures and Dan has gained a RYA Powerboat level 1 certificate. Still only 14, he regularly assists other cadets with his practical experience.
After the rescue, Jared requested an RNLI collection box to place in his cab to collect tips in and has already donated £170.21 from it. It generates conversation and he's happy to tell his fares his story.
Jared reveals his plans:
'My future plans currently are to continue fundraising to the best of my ability and spare time; also to progress with my training to ultimately become a qualified Yachtmaster. The lifeboat van, Oscar Charlie – named after the registration number, will be used in every event I can get to: fairs, festivals, open days and carnivals. I'm thankful every day to the RNLI for saving our lives – no amount of funds raised can equal what the Crew volunteers did for us that day, but I'll do what I can to achieve it. I would like to think that when I move to a coastal town, I would also volunteer at a lifeboat station. I feel that this would be the ultimate way to payback what I have taken from the charity that saves lives at sea.'