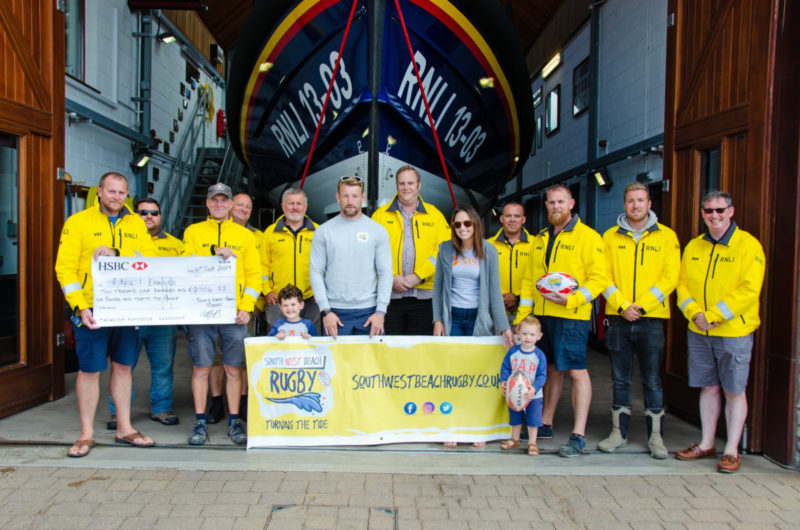 South West Beach Rugby raises over £2,000 for Exmouth RNLI
South West Beach Rugby have raised £2104.22 for the Exmouth RNLI following their well supported two day beach rugby festival that took place on 29 and 30 June 2019.
The event, sponsored by numerous local businesses, was a first for Exmouth and involved a mix of beach rugby tournaments. On the first day there were three separate tournaments with over 20 teams taking part, one for men, one for women and a mixed walking challenge. Day two saw a mix of games for Juniors, under 12's, under 13's, under 14's and under 16's that included a round robin event.
South West Beach Rugby lead, Matt Jess and his wife Sarah visited Exmouth RNLI Lifeboat Station today where they were given a tour of the station and presented a cheque to the life saving charity.
Sarah said "The tournament was a fantastic couple of days of fun and games and we were very grateful that the local RNLI were involved from the beginning and entered a team. Matt and I would like to thank all those who supported it and we're extremely happy to have raised this amazing amount for such an important local life saving charity."
Exmouth RNLI Coxswain, Steve Hockings-Thompson, said "It was great to have this event taking place right outside the lifeboat station on two very enjoyable days in early summer. And so good to see so many supporters who came along and made it such an incredible success. I must thank  Matt, Sarah, their hard working team, and all those who came along to help raise this significant sum for us."
More information on South West Beach Rugby can be found online at:  www.southwestbeachrugby.co.uk