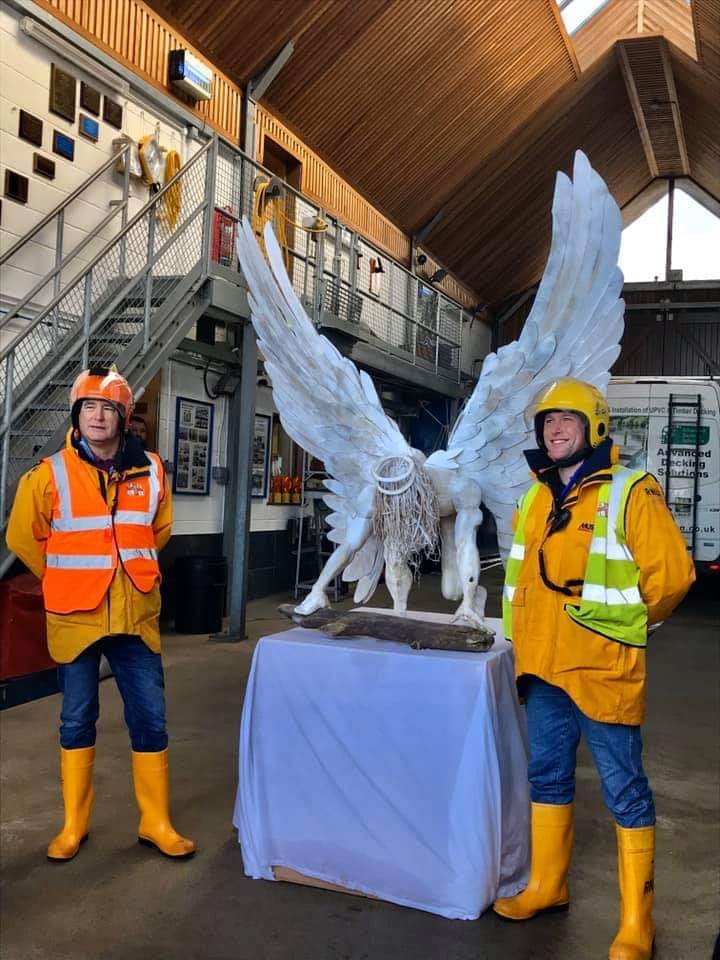 Brendan's 'Your Guardian Angel' raises over £1,100 for Exmouth RNLI
Devon artist, Brendan Rawlings, of Zen Wood Design, Topsham, who exhibited his life-sized statuette at Exmouth RNLI Lifeboat Station on Saturday, raised  £1,187.62 for the lifesaving charity in donations received during the event.
The exhibition was due to be displayed on the beach by the Lifeboat Station but, due to the bad weather, Exmouth RNLI volunteer crew members moved the All Weather Lifeboat out on to the ramp so the popular artwork could be displayed under cover. Despite the adverse conditions, it is estimated that over 450 turned out to view the exhibition.
The popular artwork, entitled 'Your Guardian Angel', was created after Brendan was asked to replicate a wall piece angel into a 3D life-sized sculpture for an exhibition. The impressive statuette stands over 6 feet tall and took Brendan just one week to complete.
Brendan said, "It was fantastic to meet the team and everyone made me feel very welcome."
"The day itself was very humbling with people traveling from all over the country, many staying in hotels in Exmouth just so that they could see the Angel. It was lovely to hear how the Angel has touched each individual person with some of the visitors staying all day because of the connection they felt to the piece and the meaning that they have attached to it."
"All in all it was a hugely positive day, despite the weather, with a cracking bunch of visitors and RNLI staff and I sincerely hope that the money raised will help the team to continue the great work that they do.  I'm really looking forward to visiting the other locations, connecting with more lovely people and raising some more funds for each station."
Chair of Exmouth RNLI Fundraising Team, Robin Humphreys, said "I would like to thank Brendan for displaying his incredible artwork at our Lifeboat Station. Thanks also to the RNLI volunteers who helped organise the event and to all those who came along to visit during the day."
"The weather was disappointing but, nevertheless, the event attracted a very large number of visitors, some from as far afield as Birmingham, who came to see this amazing exhibition and donate so generously to our lifesaving charity."
After this event, Brendan plans to exhibit the work at a number of other RNLI Lifeboat Stations around the coastline, with proposed exhibitions at :
St. Ives : 14 March 2020
Newquay : 15 March 2020
Bude : 28 March 2020
Lyme Regis : 5 April 2020
Poole : 12 April 2020
Brighton : 25 April 2020
London : 23 – 25 May 2020
More of Brendans amazing artwork can be seen at : www.zenwooddesign.co.uk