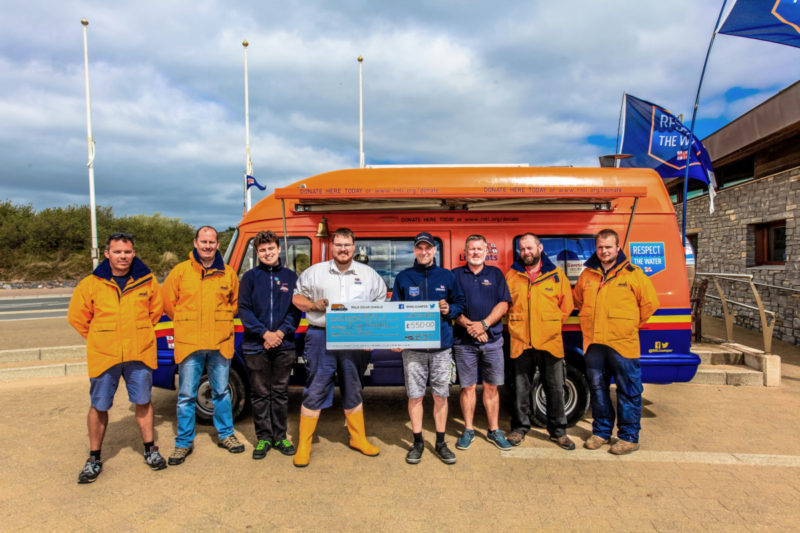 Former casualties turned Fundraisers present cheque to their rescuers
On 12 April, the second anniversary of their rescue, Jared Colclough, Dan Morton and Richard Smith returned to Exmouth lifeboat station to hand over a cheque and to thank Crew volunteers who saved their lives.
It was two years since their powerboat ran out of fuel and started taking on water near Straight Point. In the short time it took Shannon class lifeboat R and J Welburn to arrive on scene, the group of four young men were all in the water with only one lifejacket between them. Their body temperatures had dropped rapidly, especially Jared's 12 year-old cousin, Dan who was treated immediately by Paramedics.
Over the last two years, Jared with his family and friends have been actively fundraising and raising awareness of the charity's Respect the Water campaign. By visiting events in the south west in their converted camper van, they tell their personal story hoping to encourage others to suitably equip themselves when taking to the water.
Jared, Dan and Rich handed over £550 from donations raised over the last year. Jared stressed to the volunteers that they'll continue to raise money for the charity that saves lives at sea:
'I'm thankful every day to the RNLI for saving our lives – no amount of funds raised can equal what the Crew volunteers did for us that day, but I'll do what I can to achieve it.'
Volunteers from Exmouth lifeboat station set up a community safety stall to speak to members of the public and sold refreshments to raise more money on the day of the cheque presentation.