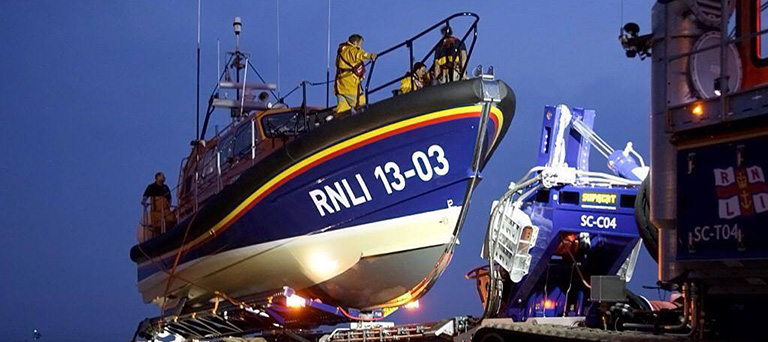 Gig Rowing Club raise an oar-some amount for Exmouth RNLI
The new local gig rowing club in town has helped raise £127.75 for Exmouth RNLI on 23 and 24 August, during the charity's Open Day Weekend. The club organised a rowing competition and sold bottled water to help save lives at sea at the event.
Rowers from the club set up two rowing machines at the annual Open Day and charged visitors £1 to see how fast they could row 500m. There were prizes for the fastest man, woman and child. On the same stand were bottles of water for sale and profits from both ventures were split equally between the club and Exmouth RNLI.
During Saturday 23 August, the club took part in a man overboard demonstration with Exmouth RNLI inshore lifeboat crew volunteers and RNLI Lifeguards. To a packed beach, the teams took turns to locate and retrieve the 'Ruth Lee' dummy in the estuary in front of the lifeboat station. The purpose of the exercise was to demonstrate to visitors the old method of life-saving using rowing boats, using Rodney Bey gig and the modern methods used today, using D class lifeboatGeorge Bearman and a Lifeguards' jet ski.
Exmouth RNLI Crew volunteer and Exmouth Gig Club Vice Chair, Max Champion was pleased the club helped boost funds for the event;
'The parallels between our Gig, Rodney Bey and Lifeboats of old are obvious and being able to illustrate this in a demonstration with the inshore lifeboat was a highlight. We raised over £255 on the Gig club stand and our Chairman, Ben had great pleasure in donating half of this amount to Exmouth RNLI before their exercise on Wednesday.'