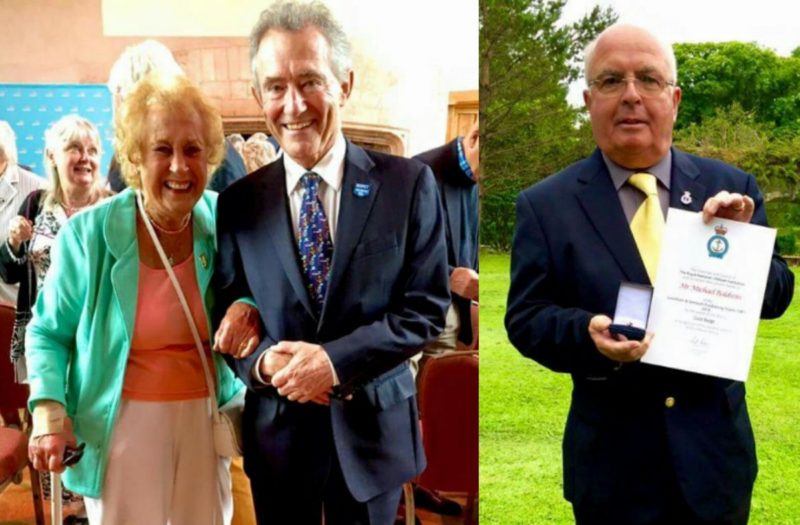 Gold Badges for Exmouth Fundraisers
Exmouth RNLI is very proud to have two of our fundraisers recognised for their tireless fundraising work at a ceremony in Dartington Hall. Jean Carpenter and Mike Baldwin have amassed a spectacular 85 years of fundraising for the RNLI between them. 
The award ceremony took place at Dartington Hall, Totnes and honoured volunteers from around the south west for their work for the RNL, the event was hosted by Charles Hunter-Pease OBE chairman of the RNLI.  Jean and Mike invited their close family and friends to the award ceremony but  were also supported by Exmouth lifeboat station, with Kevin Riley, Exmouth Lifeboat operations manager, Steve Hockings-Thompson, coxswain of Exmouth RNLI and Pat Atkinson Exmouth RNLI shop manager.
Both Jean and mike have both worked tirelessly for the RNLI, Jean started fundraising when she lived in Ireland, then moved back to England and even now after 50 years of fundraising opens her garden to raise funds for the RNLI, and she is determined to continue raising money , 'as long as they need to launch the lifeboat, I will carry on raising money!'
Mike was honoured to have friends support him from the Lewisham fundraising branch, where he began his fundraising for the RNLI 35 years. Mike is now an active member of Exmouth RNLI fundraising team and a shop volunteer, he believes fundraising should be fun.