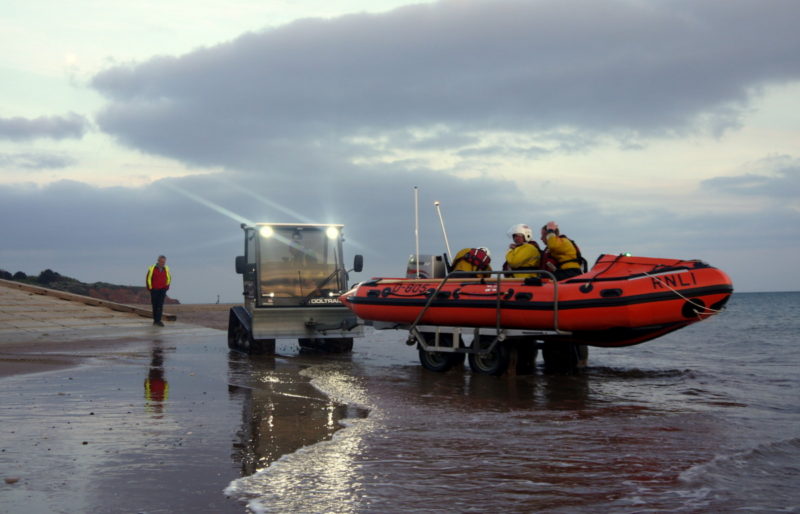 Soaring spring temperatures keep Exmouth RNLI volunteers busy
The start of the Easter holidays and warm weather attracted masses to the south Devon coast last week. Crew volunteers launched several times in just four days and continue to encourage members of the public to respect the water.
Inshore lifeboat George Bearman II launched at 4.20pm on 6 April following a call to the Coastguard from a member of the public. A teenage boy was seen in Otter Cove, thought to have been cut off by the tide. Once on scene in five minutes, Crew volunteers arrived to catch sight of a boy fitting the description, climbing up a steep cliff to safety.
At 4.40pm, Crew volunteers were heading back to the lifeboat station when they were tasked by the Coastguard to a dog over the cliff at Orcombe Point. Volunteers spotted the 11 yr old Labrador Staffordshire cross breed 40m down the cliff face on a narrow ledge, in distress. Between local Coastguard teams, Devon & Cornwall Police and Devon & Somerset Fire teams, the dog was rescued from the top of the cliff. Crew volunteers stood by for one and a half hours, prepared the D class lifeboat mattress on the rocks below and made contact with the dog's owner, who reassured him from the beach below.
On 7 April both Shannon class lifeboat R and J Welburn and D class George Bearman II launched at lunchtime to search an area south of Orcombe Point. Debris from a fibre glass boat had been found and there was concern for possible casualties and more debris. After two hours of searching with no further sightings, the Shannon class lifeboat returned at 2.15pm.
On 8 April at 8.55pm, the inshore lifeboat was tasked to a lady with no sailing experience, left alone on a 23' yacht in the dark, in the river Exe. Her partner had gone to the assistance of two kayakers in difficulty crossing the river from Turf hotel to Lympstone and had been gone some time. By the time Crew volunteers arrived on scene at 9.21pm, the man had returned and admitted he should have taken means of communication with him. Volunteers searched around Lympstone for any sign of the kayakers in further difficulty and with no further sightings, returned to station by 10pm.
On 9 April at 5.20pm, whilst on exercise, Crew volunteers in George Bearman II went to the assistance of two men. They were having difficulty recovering their powerboat with engine problems onto Mamhead slipway in a rising tide. A Crew volunteer gave safety advice as he noticed the engine was misaligned and could cause future problems.
At 6.27 pm as the volunteers reached the station, they overheard a conversation between the Coastguard and a yacht over the VHF radio. Two people on board a 28' yacht half a mile south of Orcombe Point raised the alarm after suffering engine failure. They were experiencing difficulty making headway in the onshore winds, needing assistance and with no other vessels in the area, George Bearman II was tasked. Within a matter minutes, volunteers set up a tow and took the casualties to Starcross Yacht Club, back to their mooring.
Later the same night, both Exmouth lifeboats launched to a sighting of three flares within a short space of time seen by a member of the public, off Straight Point. Inshore lifeboat George Bearman II launched at 9.45am and carried out a shoreline search, eastwards to Budleigh Salterton. Shannon class lifeboat R and J Welburn launched at 9.55pm and carried out two search patterns up to four miles south and south-east off Straight Point. With no further sightings, both lifeboats were stood down and were made ready for service by 2am.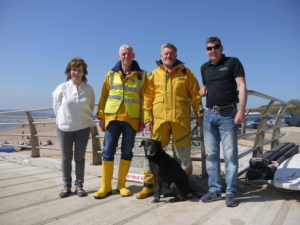 Lucky Barney with his owners, Blanche and Paul Barker with Tractor Driver, Ed Shutt and Helm, Scott Ranft.