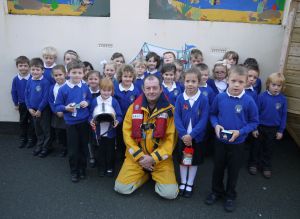 Beacon primary school pupils receive prizes from Exmouth RNLI in return for fundraising
Volunteers from Exmouth lifeboat station awarded winners of a colouring competition during their weekly achievement worship. 30 year one pupils were given sheets to colour in at the end of their visit to the boathouse on 4 October.
The visit included an hour-long tour of the two Exmouth lifeboats: the all-weather lifeboatMargaret Jean, the in-shore lifeboat George Bearman and the changing rooms. The pupils had been learning about sea safety in class and their visit enhanced their understanding of the role of the RNLI in their community.
Year one teacher, Mrs Williams said of the trip:
'The pupils enjoyed seeing how big the boat really was and the scale of the work the crew do during an emergency. The trip brought our learning to life, especially how quickly they have to get ready and rush out in all hours and all weather. The children wanted to get involved and raise some money through a cake stall to support what they do.'
Lifeboat visits officer Carol Ashman, deputy launching authority David Ashman and crew member, Robert Thompson, aka "Tommo" visited the Beacon Church of England primary school to thank them for raising £30 in the cake sale and to present the prizes.
The competition entries will be displayed in the viewing gallery above the RNLI shop on Queens Drive, soon.
Exmouth RNLI volunteer lifeboat visits officer, Carol Ashman organises and conducts group visits to the boathouse on Queens Drive. For a one-off voluntary contribution or suggested fundraising project, it's an ideal visit for local schools and clubs to see what's behind those large wooden doors. To book your visit, please contact Exmouth lifeboat station at exmouth@rnli.org.uk.