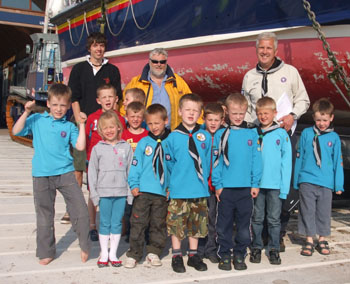 Beavers' Visit
On Monday 14th June the Ist Exmouth Beavers paid a visit to the new Exmouth lifeboat station at a time the crew were undergoing training assessments. This was fortunate in that the youngsters were able to watch the launch and recovery procedures of the all weather lifeboat Margaret Jean.
During the station tour the children had the opportunity to sit in the inshore lifeboat George Bearman. In the all weather lifeboat changing rooms, they tried on the outfits the crew wear and discussed what it means to be a volunteer for the charity.
The RNLI charity is not only committed to saving lives at sea but also to prevention work with sea safety messages. The boys listened intently to rescue stories that happened at Exmouth RNLI and gained some insight into the importance of sea safety.