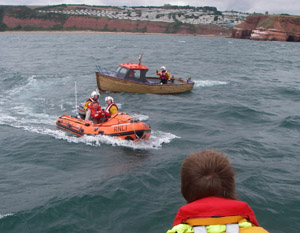 Boat taking on water
Exmouth RNLI volunteer crew were tasked to the aid of a motor boat taking on water – about one mile out to sea at Budleigh Salterton on Tuesday 3rd August at 1.46pm.
The inshore lifeboat initially went to their aid and was shortly followed a few minutes later by the all weather lifeboat which had a salvage pump on board. The two men on board the small motor boat were attempting to get out the water with a bucket as their own salvage pump was not able to keep up with the amount of water coming in.
As the boat became lower in the water, waves were crashing over the side and one of the men became very wet and cold. He was transferred to the warmth of the all weather lifeboat. Two volunteer crew members went on boat the stricken vessel and pumped out the water while the skipper Duane Greenslade continue passage back to Exmouth under the close watch of both lifeboats.
Duane said; "I was relieved to see the lifeboats as I was having to stop every few minutes to get more water out of the boat. My colleague was getting a soaking as the weather had turned and the waves were hitting the boat side on. As soon as we were chucking it out, the sea was chucking it back at us."
He added: "I am extremely grateful for their help. I am a supporter of the RNLI and urge anyone to put money in the bucket next time they pass the station. You never know when you might need them and without that money they wouldn't be there."
The boat was taken to Shelley Beach where the skipper was able to recover it later.