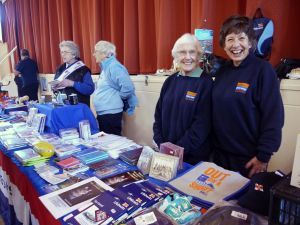 Book-signing success at Exmouth RNLI Coffee Morning
Best-selling author, Graham Hurley was invited to attend the annual Exmouth Lifeboat Fundraising Team coffee morning on Saturday 23 November. The charity's volunteers raised a collective total of £763.45 within the two-hour event.
The event was held on a sunny and frosty morning with 120 people attending. This year, the Fundraising Team invited local best-selling author, Graham Hurley to sign copies of his latest novel, Touching Distance to help boost funds. Graham contributed a donation per book sold at the event. Speaking of the charity, he said;
'It is a huge pleasure to be able to make the smallest contribution to the worthiest cause. As a regular rower, you can't believe how often we think about the lifeboat.'
Palmer Whitton & Laing kindly sponsored the event and generous local businesses donated prizes for the raffle. Loyal and dependable volunteers helped run a variety of stalls and serve refreshments throughout the morning. Stalls raised £491 and on top of this, four shop volunteers gave up their Saturday morning to man a souvenir stall which took £272.45 within the two hours.
Organiser of the event, Bruce de Saram said;
'I'm delighted that the coffee morning raised lots of money for the launch and recovery vehicle appeal. I'd like to thank all the volunteers who gave up their time and energy to make the event a success. The support of local businesses was overwhelming – I'm sure that the box from Pynes Farm Shop could feed a family of four for a week! I'm certain that Graham Hurley's appearance drew in extra visitors and I'm extremely grateful that he could attend in the same busy week of his book launch.'