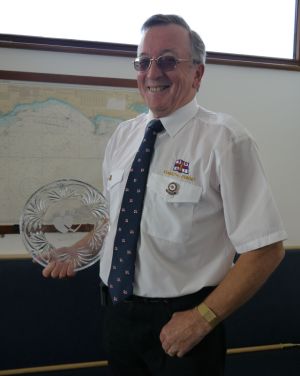 Exmouth RNLI's new senior volunteer receives award for donating over 75 pints of blood
Exmouth's new Deputy Launching Authority, Brian Abbott has received an award for donating over 75 pints of blood in his lifetime. The retired motorbike engineer who once worked with Barry Sheen throughout the 1970s, turned from racing bikes to yachts. Joining the RNLI in May, he is now helping save lives in two different ways.
In a prestigious ceremony at Bovey Castle on Dartmoor National Park on 20 October, Brian joined around 70 Donors of Excellence from across Devon. The presentation followed an evening of dinner, photographs and speeches by Steve Sugden, Head of Donor Services and Rebecca Whitley from Scarlett's Story, illustrating the importance of blood donations to save lives.
Brian is about to donate his 78th pint of blood in his 65 years, at the Pavilion in Exmouth on 9 November. He began donating in the early 1970s when a close friend suffered extensive injuries in the Isle of Man Time Trials, needing 16 pints of blood. His friend still continued to race bikes and won the British Championships. Talking about the experience, he comments: 'My blood type's the same as my attitude – be positive!'
Originally from Chester, Brian relocated to Exmouth in 2001 after visiting regularly for playing golf and sailing with his future wife. He joined the Exe Sailing Club around 9 years ago and started learning about boats and tides, which prepared him for a senior voluntary position in the RNLI.
After retiring 2 years ago from engineering, he always wanted something else to do and through contacts at the sailing club, he was able to meet Tim Mock, Exmouth's RNLI Coxswain. Brian had often watched craft exercises on the beach and expressed a wish to get involved. Luckily for Brian, at that particular time, Exmouth RNLI needed an extra Deputy Launching Authority (DLA) to join the team of life-saving volunteers. Talking about his new role as a DLA, he remarks:
'Once you get the call from the Coastguard, you start making launch decisions – location of rescue, the weather conditions, which boat to launch and crew requirements. Once I've made these quick decisions, I set off the pagers and get down to the boathouse to keep a watch over the "shout". It takes me about 4 minutes to get there (without speeding) and often by the time I get there, the crew are already on the water!'
Brian receives a Royal Doulton fine lead crystal bowl with "with thanks" etched with the Blood Donor logo underneath. This was an award for donating over 75 pints, now Brian is aiming for the coveted award of a matching decanter, only awarded to 100 pint+ donors. Aiming to continue donating an average of 3 times a year, he is determined to achieve it.