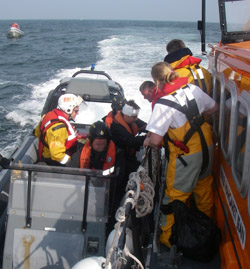 Live Launch after Opening
After a successful Opening Ceremony at Exmouth RNLI, and one in which the all weather Lifeboat was rededicated and blessed by Reverend Stephen Hoyle, both lifeboats were launched to give the guests a demonstration of a mock 'rescue'. Just minutes after they finished and were heading back up the ramp the pagers went off for real and the visitors watched as the crew sprang into action.
The volunteer crew were tasked by Brixham Coastguards at 3.43pm on Saturday 4th September to a young man, Francis Marshall, age 15, who had sustained an injury on board a catamaran two miles out to sea. Apparently he had been gybing when the mast failed and hit him, causing two lacerations to his head.
A fishing boat was in the area and took the catamaran and other crew member under tow and the inshore lifeboat George Bearman stoodby in attendance.
Francis had been picked up by a passing Customs Cutter. Andy Smith, lifeboatman and paramedic went on board the ship to assess the casualty. They were then transferred to the newly blessed all weather lifeboat Margaret Jean using the Customs rigid inflatable boat (RIB).
The guests at the Opening Ceremony saw the casualty brought ashore at Exmouth lifeboat Station and reunited with his waiting parents. He was taken to hospital by ambulance.
Later, his father Mick Marshall from Exmouth said; "My son received a few stitches to his head but is alright now. I'd like to thank all those involved in helping him, including the people on the Customs Boat and the RNLI."