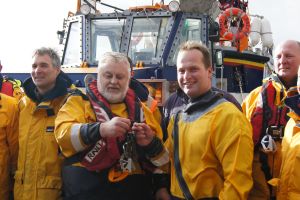 New Year brings a new start for Exmouth RNLI
Following the retirement of Coxswain Mechanic Tim Mock, two crew volunteers have successfully progressed into new roles at Exmouth RNLI.
Tim's departure on Christmas Day created two positions available: a full-time Mechanic and a volunteer Coxswain. Since both roles require the highest level of experience in life-saving at sea, the positions were advertised widely within the Institution itself.
Andy Williams was appointed the new Mechanic in November and worked alongside Tim for six weeks, learning the charity's working methods. The only full-time position at Exmouth RNLI, Andy's key responsibility is to ensure that the lifeboats are ready for service at all times, and for the safe and effective operation of the lifeboat machinery and equipment when at sea.
Andy has been a crew volunteer for four years on both the inshore lifeboat, George Bearman and the all-weather Mersey-class lifeboat, Margaret Jean. In a relatively short space of time, Andy has been awarded two Thanks of the Institution inscribed on Vellums for his roles in two high-profile rescues. On one occasion, he was described as 'Hawk-eye' by the local press for spotting a casualty drifting towards the horizon. Before his appointment, Andy worked locally as a Marine Engineer and Mussel Fisherman.
The new Mechanic believes it's important maintain a healthy lifestyle to be able to respond to any emergency or need within the RNLI & local community. Andy keeps physically fit, making use of a local gym and getting out on his bike. He takes part in various, often extreme cycle challenges, as well as charitable cycling events both on his own and with local, Exmouth-based teams. Andy's also keen on water sport, including surfing, sailing, water skiing, wake boarding and power boating.
On Christmas Day, Steve Hockings-Thompson received the title of Exmouth RNLI Coxswain. Recently, Steve was awarded his 20-year service badge by Channel Division Technical Manager, Mark Evans.
Exmouth born and bred, Steve has always worked with boats and his selflessness to help people working out at sea led him to join the crew at Exmouth
RNLI. His wife's Great, Great Grandfather Henry Hockings was the station's Coxswain between 1939 and 1943, during the Second World War and Steve is proud to continue the Institution's heritage within the family.
In 2012, his colleagues nominated Steve to become an Olympic Torch bearer, based on his long-term commitment for the charity. Steve has also taken part in a number of marathons, triathlons and Iron Man challenges for various good causes over the years. Steve enjoys racing along roads throughout Devon and Cornwall on his bike when he's not competing – a great practice for when his pager goes off and he needs to get down to the boathouse quickly.
Kevin Riley MBE, Exmouth RNLI Lifeboat Operations Manager says;
'Steve has a superb leadership team which he can call upon with Deputy Coxswain, Scott Ranft and Deputy 2nd Coxswain, Roger Jackson. Andy, likewise has Deputy 2nd Mechanic, Mark Sansom and Robert "Tommo" Thompson to ensure the lifeboats are working 24/7. The crew are all eagerly awaiting the new Shannon-class lifeboat in the not too distant future, with all the training and skills involved, as are Shore-crew volunteers with the Supacat launching system. This will truly make Exmouth RNLI complete with a 21st Century Lifeboat in a 21st Century station.'