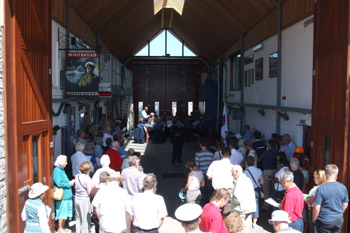 Sea Sunday Service
Exmouth Town Band provided the music for the Sea Sunday service held at 3pm on Sunday 18th July at the new Exmouth RNLI Boathouse. The service was conducted by Reverend Stephen Langford.
Rev. Langford said. " It has been my privilege to take the service today in tribute to those who are willing to put themselves in harms way to save us when we need to be rescued."
"I have a huge amount of respect for the RNLI. My father was a volunteer coastguard and we lived in the coastguard cottages just outside Abbotsbury where I was brought up on the heroic stories of those who had saved lives at sea. As an adult, I was Baptist minister at one of Orkneys North Islands and I learnt that no matter what the weather the RNLI will always come for you in an emergency. "
After the service, the inshore lifeboat volunteer crew – while on exercise – were called to the aid of a kite surfer in difficulties, a 19 ft dinghy with with mast problems, a windsurfer in difficulties and a boat that had run aground.