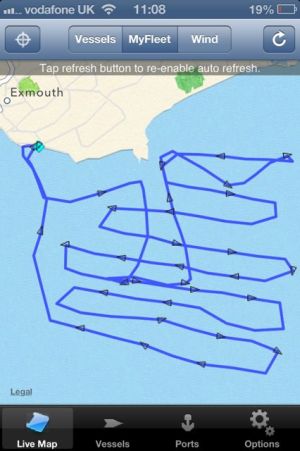 Three shouts for Exmouth RNLI within 24 hours
Crew volunteers from Exmouth RNLI were tasked three times within 24 hours, including two in the middle of the night. Two boats needed assistance with engine failure on the June 20 and the third call-out was responding to a flare sighting off Straight Point at 11.18pm the same night.
Portland coastguard tasked the Exmouth RNLI inshore lifeboat George Bearman just before midnight on 19 June. The charity's volunteers were called to the aid of two people on a 17-foot power boat in the Exe estuary. A call to the coastguard had reported engine failure, although the boat was sitting on a dry river bank on a low tide. The volunteer crew arrived on scene just in time, as the casualty was starting to lift in the rising tide. The vessel was towed to Exmouth Marina. Deputy Launching Authority, Neil Matson said;
'The motor boat was having engine problems and had gone aground – the rising tide meant that it would have floated off eventually, but might then have drifted upriver unless it could have re-started its engine.'
Exmouth RNLI volunteers were on duty at the boathouse at 11.25am on 20 June when they heard a Pan Pan distress call on the VHF radio. Coxswain Tim Mock telephoned Brixham coastguard to respond to the casualty and self-launched the inshore lifeboat at 11.30am. A rigid inflatable boat from Starcross Yacht Club had suffered engine failure at the entrance to the channel, 300 metres from the safe water buoy. With poor visibility of half a mile, the trio of crew volunteers used their navigation skills to locate the casualty and tow the vessel with one man aboard, back to a mooring at the club on the other side of the estuary.
The volunteers' pagers sounded for the third time at 11.18pm on 20 June. This time, Brixham coastguard launched the all-weather lifeboat Margaret Jean to an area three miles south east of Straight Point. A flare was spotted by a holidaymaker in a caravan at Devon Cliffs, Sandy Bay. The volunteer crew launched at 11.32pm and embarked on a four-hour search in the dark with nothing found. The Mersey-class lifeboat returned to the boathouse at 3.45am and was ready for service at 4.45am.
'Brixham coastguard broadcast a Pan Pan message and the fishing vessel Our Lady Lou, from Brixham responded joining us in the search.'