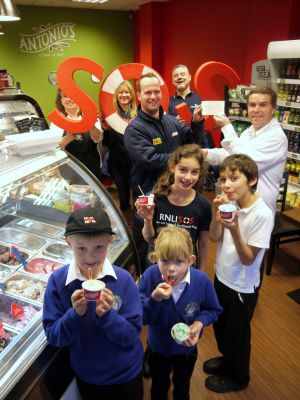 Antonio Supports Our Shannon appeal with cheque to Exmouth RNLI on SOS Day
The owner of local Italian ice-cream parlour 'Antonio's', presented a cheque for £200 to Exmouth RNLI volunteers on Friday 31 January.
Owner, Antonio 'Tony' Badcott has helped boost funds for the charity's appeal by running various promotions since he opened in October 2013. Owning a gelato and coffee bar in East Devon was always a dream for Tony. His parents were both lifelong supporters of the charity that saves lives at sea and supporting his local lifeboat station was a priority when setting up his business based in The Strand, Exmouth.
Tony invited crew and fundraising volunteers with their families to a tasting evening just before he opened the business. It seemed most convenient to choose the charity's national fundraising day, SOS Day to hand over the cheque from the last four months' donations.
Tony, who makes all the authentic Italian ice-cream on the premises, has announced his plans to concoct a special Easter flavour to raise further awareness of the volunteers' selfless work. He comments;
'We have different promotions every week, with customers' additional voluntary donations contributing to the current Launch and Recovery appeal. We'd like to continue that relationship with Exmouth RNLI beyond the Shannon-class' arrival this summer, as they will still need donations towards the station's annual running costs. We strive to play our role in the community to help save lives at sea.'