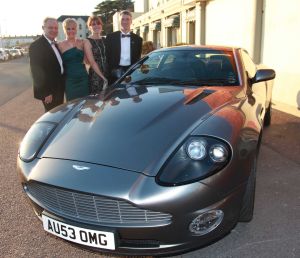 Casino Royale party supports Exmouth RNLI appeal
Exmouth resident, Michael Griffin held a James Bond-style party at the Exmouth Pavilion on Saturday 20 April. Both volunteer Deputy Coxswains from Exmouth RNLI were invited to help raise money towards their latest appeal.
When Michael started planning his 60th birthday party, fundraising for the charity that saves lives at sea played a key part. As a keen sailor and member of the Exe Sailing Club, Michael asked guests to donate money to the Institution, in lieu of presents. But his fundraising plans developed further and volunteers from the town's lifeboat station were invited to play a role, too.
Volunteer Deputy Coxswains, Scott Ranft and Steve Hockings-Thompson were invited to play the part of 'Bankers' at the casino during the party. Selling chips at £5 for £20,000 worth of 'fun' money, the charity were promised all the takings which would contribute towards the launch and recovery vehicle appeal. Party-goers could win prizes of bottles of Champagne, Port and sparkling wine. Jeanette of the Pavilion also donated two tickets for a show.
Guest, Nigel Timmis of the Abbey Manor Group brought along his Aston Martin V12 Vanquish for the occasion. The Grange Aston Martin garage provided a further car to make the entrance to the party spectacular. Guests were encouraged to pose with the vehicles and purchase photographs as a souvenir of the party.
The party was attended by 165 invited guests who wore James Bond theme costumes. The charity's volunteers were accompanied by their wives, Lou and Katie who themselves collected £495 in selling casino chips. The total amount raised at the casino in the collection buckets, from photograph sales and gift donations topped £1,000 and still more donations have been promised. Michael explains why he chose to raise funds for Exmouth RNLI;
'I chose the RNLI for two reasons: firstly, because I'm a sailor and whilst I do not intend to use the RNLI, I am very pleased to know they are there; secondly, because whilst the RNLI saves other people's lives, I see this money going to help make sure that the volunteers risking their lives are as safe as they can be. It is in my eyes, a charity that funds not the victims, but those doing the rescuing who need our support the most.'