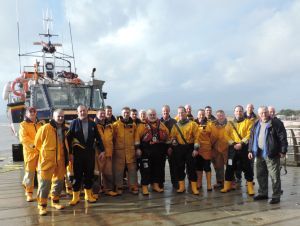 Exmouth RNLI say goodbye to Tim on Christmas Day
It is an annual tradition for Exmouth RNLI to show community involvement at the Christmas Day swims in Budleigh Salterton (10am) and Exmouth (11am). This year it was a very special occasion as it was the station's Coxswain Mechanic, Tim Mock's last working day.
Joining as a crew volunteer in April 1980, Tim has seen many festive periods, staying sober and alert to the pager sounding. His wife, Melanie tells of many Chistmas dinners where she has had to finish off all three Christmas puddings, as their son Henry (19) is also a crew volunteer.
Christmas Day for those on duty started at 9am, as both the all-weather Margaret Jean and inshore lifeboat George Bearman launched to view the spectacle from the water. By 10.30am, both lifeboats were in situ along with tens of other pleasure boats, including local Stuart Line cruise boat and Exmouth rowing club. Hundreds of swimmers or paddlers took part, many in fancy dress and many barely dressed at all! The swim started at 11am and is not classed as an official event, but a town tradition that began in the 1960s.
Recovery of the lifeboats was completed by around noon and volunteers joined Tim at the boathouse to say goodbye. The official ceremony of handing over the keys to the boathouse to new full-time Mechanic, Andy Williams took place shortly after. Santa made Steve Hockings-Thompson the new Exmouth RNLI Coxswain and his first job was to supervise the washing down of the lifeboats. With everything ready for service again at 2pm, volunteers could join their families and friends to celebrate Christmas.