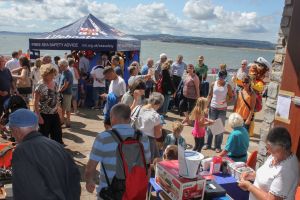 Exmouth RNLI volunteers announce fundraising appeal success
Volunteers at Exmouth RNLI are overjoyed at reaching their fundraising target of £150,000 towards the new Shannon Launch and Recovery System, just in time for the arrival of their new Shannon class lifeboat on 9 May.
The appeal was launched towards the end of 2012 and is contributing towards the total cost of the station's new vehicle, designed in conjunction with local Devon company, Supacat. The state-of-the-art tractor and carriage system arrived at Exmouth lifeboat station at the end of March and shore crew volunteers have been familiarising themselves with the new features.
Over the 18-month appeal, funds have consisted of donations, sponsorships by individual fundraising efforts and events run by the Exmouth Lifeboat Fundraising Team. The appeal has been strongly supported by the community, visitors, other branches, businesses, schools and the local media have all helped the success.
The fundraising team continue to raise money to cover running costs at the lifeboat station and are already planning events for the remainder of the year.
Don Hodgkinson, Chair of the Exmouth Lifeboat Fundraising Team said;
'We'd like to thank all our loyal supporters and local branches for helping us reach our target. We're especially pleased to share our good news with everyone, as our new lifeboat arrives on 9 May.'