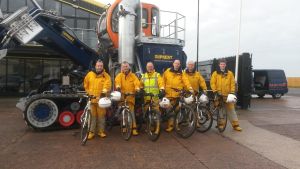 Six On Saddles complete 32 miles for Exmouth RNLI
Volunteer RNLI lifeboat crew members from Exmouth, Max Champion, Stephen Satchell, Paul Fox, Lee Manning, Neil Cannon and Hedley Saunders completed a 32 mile cycle from Supacat in Dunkeswell to Exmouth RNLI lifeboat station on Saturday (25 January) to raise funds towards the new launch and recovery vehicle needed for the Exmouth's new Shannon class lifeboat. The challenge, made even harder as the cyclists were wearing full all weather RNLI lifeboat kit, celebrated the charity's SOS Day which is on Friday 31 January.
The Six On Saddles, departed Supacat in Dunkeswell at 9.30am on Saturday making short stops at Honiton, Otter Nurseries Garden Centre, Ottery St Mary and Devon's Crealy Great Adventure Park for refreshments and to meet supporters along the way.
Max Champion, RNLI volunteer lifeboat crew and ride organiser says; 
'It was a fantastic day. We had the foresight to pick Saturday, which provided the perfect weather window, although the wind did increase after lunch, making the last 15 miles extremely hard work. All weather lifeboat kit is not designed for cycling!'
The crew decided to start their cycle ride from Supacat's base in Dunkeswell as they have designed the specialist launch and recovery vehicle needed to launch Exmouth's new Shannon Class lifeboat which is due later this year. They were supported by volunteer crew and doctor, Peter Aitken and shore crew Colin May, while Knobblies Bike Shop in Exmouth also provided technical support along the route.
Max continues;
'We were very excited during a guided tour of Supacat before we started the cycle ride, to see the component parts of Exmouth's launch and recovery vehicle being made, making our challenge even more significant.
We'd like to say a massive thank you to the local businesses who offered their support and generously provided entertainment for people who came along to cheer us on. It was great to meet and chat to all the supporters at the various stops. We were looked after with free refreshments at Otter Nurseries Garden Centre, Ottery St. Mary and enjoyed a free lunch at Devon's Crealy Great Adventure Park along with a ride on their Pirate Ship.
So far we have raised nearly £1,500, but with the fundraising page still open for donations, we'd love to beat last year's total which was just over £2,500. You can still donate by visiting our fundraising page www.virginmoneygiving.com/supacattostation.'
The cyclists arrived back at Exmouth lifeboat station at 3.45pm where supporters had gathered for teas and coffees, soup and cakes, and were welcomed by the town crier, followed by a performance by the Exmouth Shantymen.
Author: Amy Caldwell,
Press Officer, South West.