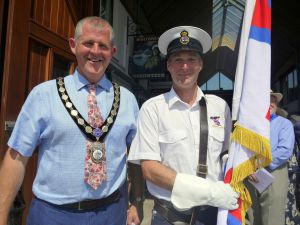 Sun shines for Exmouth RNLI Sea Sunday service
Exmouth RNLI held their annual Sea Sunday service on 14 July at the boathouse on Queens Drive. Reverend James Hutchings, Priest-in-charge of Littleham-cum-Exmouth with Lympstone Mission Community took the service, leading prayers and hymns for those who work and live by the sea.
At least 150 people attended the 40 minute service, attracting many beach visitors throughout the duration. Town Mayor John Humphries, Exmouth Town Crier Roger Bourgein and representatives from local RNLI branches were in attendance. Volunteer crew members with their families and Chairman of the Lifeboat Management Group, Tim Baker joined members of Exmouth Lifeboat Fundraising Team for the occasion.
Exmouth Town Concert Band accompanied the four hymns and Fundraising Team Treasurer, Bernice Williams and RNLI Shop Manager, Margaret Eaglesham read selected passages from the Bible. During the first hymn, Deputy Second Coxswain Steve Hockings-Thompson paraded the RNLI standard, which was on display at the altar throughout the service. Special guests for this year were members of the Budleigh Salterton Male Voice Choir. The gentlemen led the hymns and entertained the congregation with classics such as 'Glorious Devon'.
Volunteers organised a bucket collection after the service, whilst the band played a medley of sea-faring tunes. £234.38 was collected in total, which will contribute towards the launch and recovery vehicle appeal for the new Shannon-class lifeboat, due next year. The collection was over double that from last year's service; this year, display banners and fundraising literature were available detailing the appeal. Beryl Cole, organiser and Secretary of the Exmouth Lifeboat Fundraising Team said;
'I would like to thank the band and the choir for enhancing the service this year. It was a lovely informal service which recognised and appreciated all of our seafaring community.'
The all-weather lifeboat, Margaret Jean was positioned on the ramp to make room for the congregation inside the boat hall. Reverend Hutchings, dressed in Bermuda shorts, commented;
'It's been a lovely celebration today, with great weather that makes us want to celebrate God's creation. Also, to be able to give thanks for the good hard work that goes on within the RNLI, not always sunny days like this. We need to remember the dangerous and gruelling conditions that the volunteers experience, in worse weather for the rest of the year. It's been a very good, coming together celebration.'
• Three hours earlier, crew volunteers were called to assist a search for a grandmother and toddler walking between Sandy Bay and Exmouth. A concerned relative had called for help, realising it was high tide. The couple were located by RNLI Lifeguards soon after launching.