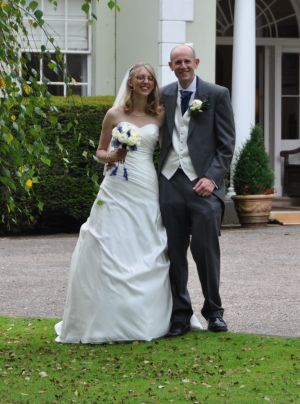 Wedding Fever profile: Exmouth RNLI volunteer Mark Champion
The last of three Exmouth RNLI volunteers to tie the knot this summer, Mark "Max" Champion married Victoria on 8 September at Deer Park, Honiton. Earlier this summer, Mark received the Thanks of the Institution Inscribed on Vellum for the role he played in the rescue of four young men in October 2011.
Mark tells how he became involved with the RNLI:
'Growing up in the seaside town of Looe, I naturally became involved with the sea and boats. From the early age of 12, I helped take people out on angling trips with a big Yorkshire man called Allen Ellis. Then I went on helping netting and eventually trawling full-time after my A-Levels. I always had an interest in the RNLI but thought I'd be of limited use as I'd be working and have poor availability.
'I joined the RNLI Looe volunteer crew when I became shore-based in June 2004. I was a net-maker and splicer and I could be in the boathouse whilst the pager was still going off. I was part of both the Atlantic and D-class crew and although successfully passed the Atlantic helm course, I never attained a position as there were no vacancies.'
Mark qualified as an airline pilot, found employment at Exeter airport with FlyBe and moved to Exmouth in June 2008. Mark was duel crew at both lifeboat stations for that summer, as he still spent time in Cornwall and attended shouts and training at both venues. Mark finished on Looe crew in January 2009.
Today, Mark is a volunteer crew member and navigator on the all-weather lifeboat, Margaret Jean and more recently has qualified as a helmsman on the inshore lifeboat, George Bearman. Speaking of his navigation skills, Mark says:
'I also still fly light aircraft which is also a test of the navigation skills, some of the volunteer crew have even been up for a trip! It gives me a good view of the estuary and coast that comes in useful on the lifeboat.'