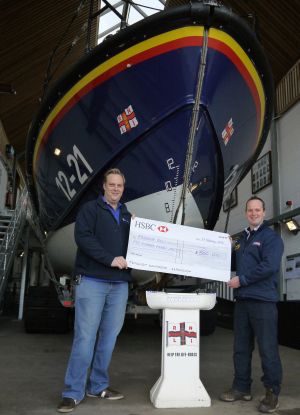 Chippy cheque boosts funds for Exmouth RNLI appeal
Krispies Fish and Chips presented Exmouth RNLI with a cheque for £500 on Monday 10 February. This was the total sum raised from a prize raffle before Christmas.
Owners of the Exmouth Chippy, Tim and Kelly Barnes decided to hold a prize raffle to raise money for the station's appeal in the run up to Christmas. Local businesses generously donated food, drink, toys and DVDs to compile a prize hamper worth £300. Customers were invited to buy tickets for £5 each and word soon spread with publicity on Krispies and Exmouth RNLI social media pages.
On 23 December, the winning raffle ticket was drawn and the winner, Mr Lyons was announced.
Tim Barnes is currently a trainee crew volunteer in his first year. He said;
'During the recent rough weather, fishermen have still gone to sea to make a living and as a business we rely heavily on their catches. We chose to give the proceeds to last year's Christmas raffle to our local lifeboat station to highlight the fact that RNLI volunteers are there in all weathers at all times of the year to help industries like ours.'
Exmouth RNLI Crew volunteer, Steve Satchell commented;
'I think it's great what Tim and Kelly have achieved. As a fellow crew volunteer at Exmouth RNLI, all money for our Launch and Recovery Vehicle appeal will transform our performance of saving lives at sea in Lyme Bay. The turn-around time it will take between launches will be cut down dramatically by this state-of-the-art piece of kit. We'd like to thank everyone for their support so far.'