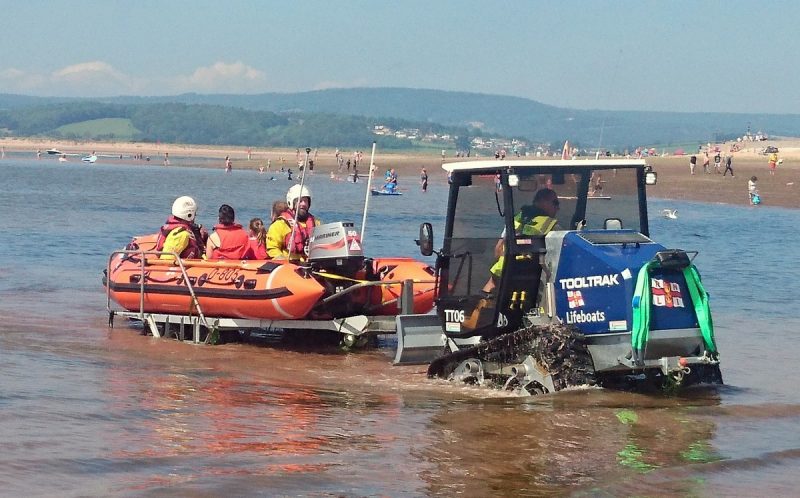 Exmouth RNLI rescue family on Bank Holiday day out to the beach
Inshore lifeboat George Bearman II launched at 10.44am on 28 May after a family with three young children on board a RIB ran aground on Pole Sands, half a mile west of Exmouth lifeboat station.
Crew volunteers were on scene within ten minutes, discovered their boat was stuck in the sand and set their anchor. All five casualties were recovered to the D class lifeboat and brought back to Exmouth beach to wait until the tide lifted again. The family were heading to Teignmouth to spend the day on the beach when they hit the sand bar.
Helm, Robert 'Tommo' Thompson said:
'We commended them for calling the Coastguard the moment they ran into difficulty and gave some safety advice because not all the casualties were wearing lifejackets. On this occasion they had misjudged the fast ebb spring tide which had swept them onto the sand bar.'
Exmouth RNLI Community Safety Officer, Dave Littlefield commented:
'Before setting sail, ensure that you have carried out all your pre-planning for a safe voyage. When sailing off Exmouth and the River Exe, please ensure that you have an up to date tide listing for the area. This will give an indication of how the tide is flowing. The Pole Sands are a considerable length so please keep clear and sail in the deeper water. Don't try and take a short cut as you could find yourself in unexpected danger.
'Use a local chart to ascertain the safe areas to navigate through, plus ensure that you have a VHF maritime radio using channel 16 when in difficulty. Lifejackets are a must, On the vessel, you should be wearing a well-maintained life jacket at all times.'