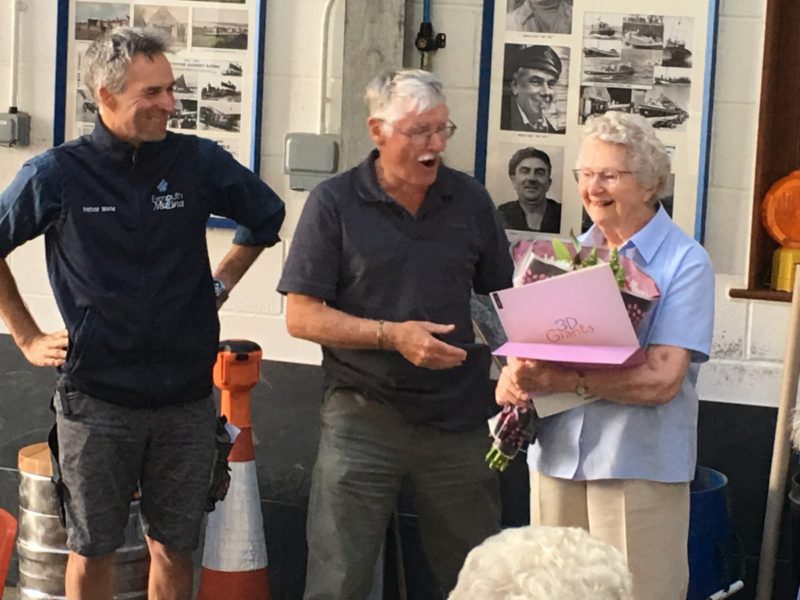 Nancy Keeps out of Mischief and Raises over £4000
Nancy Thompson has proven a fund-raising champion, not only has she been a dedicated shop volunteer for over 21 years at Exmouth, she has raised over £4000 with her crocheting! 
Exmouth's shop volunteer Nancy Thompson has raised an amazing £4000 by crocheting hats to raise money for the RNLI. Her fundraising has been encouraged by her son Robert Thompson (Tommo) a crew volunteer at Exmouth who admits to being very proud of his mum's achievement. Her amazing efforts were rewarded with a presentation at the fish and chip supper with a signed thank you card from everyone involved at Exmouth RNLI
Nancy admits to starting crocheting hats to 'keep myself out of mischief!' And the orders and her dedication just kept on growing.
Steve Hockings-Thompson, coxswain: 'We are so lucky that Nancy has raised this money for the station, she is exceptional with the amount she has single handedly raised. Without people like Nancy we would not be operational, it costs over £250,000 to run Exmouth lifeboat station annually. On behalf of all the crew and our families we would like to thank Nancy for her tireless fundraising.'